Ukes of Tomorrow (D)
11.01.2018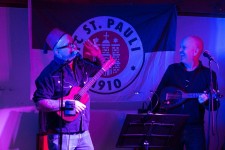 UKES OF TOMORROW > Ukulele Punk Rock covers & other good music!

Mit Verstärkern rocken können alle. Ukes Of Tomorrow zeigen das es auch anders geht. Sie ziehen die Stecker und bieten einen akustischen Abend der besonderen Art. Ukes Of Tomorrow bestehen aus Kent (Leroys, The Crimes, ex-One Bar Town) und Pommes (Summer Version, ex-Medfield MA). Mit ihren beiden Ukulelen covern sie: Eddie & The Hot Rods, Cock Sparrer, Ramones, The Damned u.v.a., und beweisen dass Punk Rock immer noch nicht tot zu kriegen ist:
Die Ukulelen von morgen sind die Defibrillatoren von heute!
"Zweifelsfrei eine der besten Punkrock-Ukulelen-Duos überhaupt, hauen dem geneigten Publikum mit ihren Stummelgitarren Hit by Hit um die Ohren" (Saint Rich/JAM TODAY).
___________________
https://www.facebook.com/ukesoftomorrow
https://www.youtube.com/watch?v=kWMep-PasWs