Erin Costelo (CAN)
26.02.2018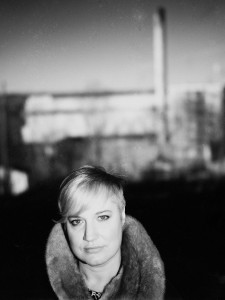 Die Musik der Sängerin mit der umwerfenden Stimme wird in Kanada im Radio rauf und runter gespielt, in Deutschland ist sie noch ein Geheimtipp, den es zu entdecken gilt. Ihre Musik ist Songwriting auf hohem Niveau, viel Soul, viel Jazz und viel Erzählung. Sie wird mit Künstlerinnen wie Nina Simone und Carole King verglichen und stand schon mit einigen Legenden auf der Bühne. Erin Costelo ist mehrfach preisgekrönt. Ihr letztes Album "We Can Get Over" hat ihr den Durchbruch gebracht, das sie nun in Europa vorstellen wird.
Darauf freuen wir uns, denn Erin Costelo ist nicht nur eine begnadete Musikerin, sondern auch eine unterhaltsame Erzählerin.
Die Frage nach dem, was gute Soul-Musik ausmacht, wird seit Jahrzehnten diskutiert. Sicher ist man nun, dass es dafür nicht reicht, als Künstler die Leute persönlich zu erreichen, nein, es muss auch auf spiritueller Ebene geschehen. Und es gibt einige wenige Sänger, die sich vollständig in ihrer Musik zu zeigen vermögen, bis zu dem Punkt, an dem der Zuhörer eine Verbindung fühlt, die weit über das Unterhaltungsmaß herausgeht.
Das aktuelle Album "Down Below, The Status Quo" zeigt nun tatsächlich den glorreichen Moment, in dem ein Künstler alle Puzzleteile zusammengesetzt, die er schon immer zusammensetzen wollte um herauszufinden, wer er wirklich ist. Oder, um es anders auszudrücken, um die eigene wahre Seele zu entdecken - Indem man dem zuhört, was Erin Costelo mit diesem Album verwirklicht hat, kann man wohl auch der Entdeckung der eigenen näher kommen.
------
The question of what constitutes great soul music has been endlessly debated for decades. But what's been proven by now is that it's the domain of any artist with an ability to reach audiences not only on a personal level, but a spiritual level as well. It's that rare breed of singer who can completely reveal themselves through their music, to the point where listeners feel a connection far deeper than mere entertainment. It is, as Bob Dylan put it, life and life only.
There will undoubtedly be more apt descriptions to come of Erin Costelo's latest album Down Below, The Status Quo, but at its heart it is a reflection of her (and our) complicated world, expressed through a voice unlike any other in Canada. Having paid more overt tribute to her vintage soul music influences on her previous album, We Can Get Over, Erin's musical evolution has taken its next natural step on Down Below, The Status Quo by channeling those vibes into 10 tracks that display her equally exceptional gifts as a producer, songwriter and arranger.
But as the old saying goes, diamonds can only be created through intense pressure, and Erin doesn't hesitate to describe the making of Down Below, The Status Quo as a long and painful endeavor. With experimentation as her mandate, she spent nearly a year in the studio honing 15 songs in various states of completion, down to the final track list built upon a cohesive theme embedded in both the album's sound and lyrics.
Fortunately for the Halifax, Nova Scotia native, she was able to rely on a trusted coterie of local collaborators, beginning with Thomas Stajcer, who engineered the sessions at Joel Plaskett's New Scotland Yard studio. Others featured on the album include her longtime guitarist Clive MacNutt, bassist Ian Bennett, drummers Dave Marsh and Matt Gallant, along with the Blue Engine String Quartet and horns supplied by Matt Myer, Andrew Jackson and Andrew MacKelvie.
"Out of all the music I've made to this point, I feel this album sounds the most like me," Erin says. "There was definitely more experimentation on this album and I didn't really stop writing the entire time, unlike on the last album where I had five or six finished songs going in and had a pretty clear idea of how the entire record would sound. One of the tracks on this new album was actually recorded with nine different arrangements until I found one that felt right."
Another crucial difference, Erin explains, is that the songs on Down Below, The Status Quo show that she's in a much different place in her life than when she made We Can Get Over. While that album expressed the thrill of a budding relationship through a much more pop-centric approach, new songs such as "Fighter," "Low" and "Titanic" (the last co-written with Stephen Fearing) take an unflinching look at reality, while at the same time, "Move" and "Turn It On" offer hope and strength as a counter-balance.
"I didn't have any second thoughts about allowing myself to be vulnerable on this album," Erin says. "In some cases I'd look to an artist like Randy Newman, whose songs so often challenge our everyday perceptions of the world, but they always sound so beautiful. That became the goal in the end, really, to have each song make its own statement, while tying them all together with music that brought out the humanity in each of them, whether it was through adding strings or horns or whatever was necessary."
Although Erin has had previous experience writing for Symphony Nova Scotia and the Blue Engine String Quartet, one of her primary interests is actually electronic music, which was a big part of her formal education. Serious songwriting didn't come until later, after she'd lived in a few different North American cities before landing in Toronto about a decade ago. It became a way for her to try to connect with people who were unprepared to grasp her modern classical compositions, although she eventually felt the pull to return to the Maritimes. Upon arriving back home, she took to the woods of Cape Breton and began writing songs that formed the basis of her first album, released in 2007.
It didn't take long after that for Costelo to make her presence felt within the Halifax scene, and her status was solidified when We Can Get Over was named R&B/Soul Recording of the Year at the 2014 East Coast Music Awards. She went on to share bills with Mavis Staples, Dr. John, and Bettye LaVette, as well as appearing on Joel Plaskett's latest release, The Park Avenue Sobriety Test, and joining him for his performance with the National Arts Centre Orchestra.
"Up until this album, it has sort of felt like I've had a fragmented musical life," Costelo says. "I would be using the tools I'd learned through studying classical and electronic music, while having an entirely separate career as a singer/songwriter. But on Down Below, The Status Quo, it feels as if all of these elements are synthesized for the first time. It's like I'm presenting myself as a whole person."
Down Below, The Status Quo indeed captures that glorious moment when an artist puts together all the pieces of the puzzle they have been trying to fit together in order to discover who they really are. Or, to put it another way, to discover their true soul. Listening to what Erin Costelo has accomplished with Down Below, The Status Quo may help us discover our own as well.
_______________________________
https://www.facebook.com/erincostelomusic/
http://erincostelo.ca/
https://www.youtube.com/watch?v=S0Gmn8Q3C5U (+)
https://www.youtube.com/watch?v=DwnRDEBIVPs