The Jellyman's Daughter (UK)
30.04.2018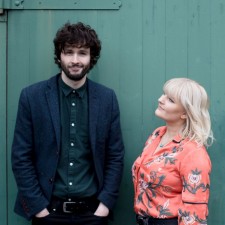 Das schottische Duo The Jellyman's Daughter landet direkt in der Mitte einer eigenartigen Kreuzung zwischen Bluegrass, Post-Rock, Folk und Soul. Emily und Grahem vermischen ihre einzigartigen Gesangsharmonien mit wildem und intuitivem Cellospiel, einer treibenden Gitarre und süßer Mandoline - immer mit dem Fokus darauf, etwas Neues zu schaffen.
The Jellyman's Daughter haben in ganz UK gespielt, sind durch Europa und Kanada getourt und haben sich in den vergangenen 2 Jahren auf dem Folk Alliance in Kansas City präsentiert. 2018 werden sie ihr neues Album in UK, Europa, den USA und Kanada und die Dynamik aufrechterhalten, die ihnen bisher so außerordentliches Lob eingebracht hat.
-------
Scottish duo The Jellyman's Daughter lands squarely in the middle of a strange crossroads between bluegrass, post-rock, folk and soul. Mixing their unique vocal harmonies with wild and visceral cello, driving guitar and sweet mandolin, Emily and Graham write their songs together with a focus on doing something new.
After making each other's acquaintance in the inspiring setting of Edinburgh, the pair soon found a love for playing music with each other, staying up into the wee hours making home recordings. After cutting their teeth busking the streets, playing covers creatively reworked to incorporate Graham's rhythmic, percussive cello playing and the affinity in the duo's vocal harmonies, they began writing original material.
The release of their debut album in 2014 saw them receive a huge amount of radio exposure, and reviewers unanimously agreed that something totally appealing had come on to the scene. The Sunday Herald (Scotland) made it one of their Top Albums of The Year while Maverick magazine described them as "fascinating" and said they demonstrated "originality by the bucket­load". "Heartily recommended" by Folking.com, Acoustic magazine told readers they "kick up a heck of a storm," while The Daily Express called the duo "a match made in heaven".
They started 2015 as they meant to go on, winning even more praise following bigger­-exposure live performances, including a nomination for Best Acoustic Act in the Scottish Alternative Music Awards, and spreading their wings much further afield, spending a month touring Germany, The Netherlands and Denmark. After a successful appearance at Folk Alliance International in Kansas City early in the year, Emily and Graham spent 2016 gigging extensively, including a tour of Canada in September. In 2017, after a return visit to Folk Alliance in February with an official showcase, they have been focusing on putting the finishing touches on their second album, while 2018 will see them release the album and tour the UK, Europe, USA and Canada, sustaining the momentum that has earned them exceptional praise so far.
_________________________
https://www.facebook.com/jmdmusic/
https://www.thejellymansdaughter.com/
https://www.youtube.com/watch?v=cyj7ee6bd3E