Lucia Comnes & Laura Callaghan (USA / IRL)
19.05.2018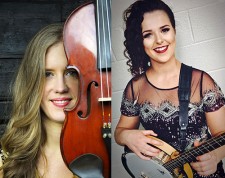 Lucia Comnes, die amerikanische Singer-Songwriterin mit der Geige, musiziert beeinflusst und inspiriert durch die Tradition amerikanischer und irischer Folkmusik. Mit Hingabe schreibt sie ansteckende Musik , sie und ihre Band sind bekannt dafür, ganze Nächte mit energiegeladenen Sets groove-orientierter Pop,- Rock- und Folkmelodien durchzurocken. Seit diesem Jahr arbeitet Lucia mit der aufstrebenden irischen Musikerin Laura Callaghan, die als eine der begabtesten Gitarristinnen irischer Folkmusik gehandelt wird. Mit Wurzeln in San Francisco und Irland entwickeln sie mit ihren gemeinsamen Songs zeitlose und wichtige Erzählungen, vermischt mit einer Menge tradtionellem irischem Folk auf Geige und Banjo.
_________________________
Lucia Comnes is an American fiddler-singer-songwriter from San Francisco, California, who has been greatly influenced and inspired by the traditions of American & Irish Folk music over the years. A songwriter committed to writing infectious music for the people, she and her band are known for rocking the night away with high energy sets of groove-oriented pop, rock and folk melodies.
This year Comnes has embarked on a new collaboration with one of Ireland's most up and coming talents - Laura Callaghan (bio below) - who is already known as one of the most accomplished female guitarists accompanying traditional music in the country. With origins in San Francisco and Ireland, their songs spin Irish and American narratives that are both timeless and relevant mixed in with plenty of of traditional Irish music on fiddle and banjo.
Lucia's impressive musical background includes playing/touring with Joan Baez and Tim Grimm, opening for Paul Brady and collaborating with Liam Ó Maonlaí (Hothouse Flowers). A storyteller at heart, Lucia writes powerful melodies with honest, earthy lyrics that reflect her connection to the elements. Her song, 'No Hiding Place', a swampy blues number that marries lines from Appalachian ballads to a Bo Diddley beat, was recognised by the Dallas Texas Songwriters Association as Best Song of the Year in 2014 which led to her recent recording project in Nashville, Tennessee.
Folk Radio UK calls Lucia's most recent album, 'Love, Hope & Tyranny' (Delfina Records 2015) "a wonderful record that balances a real sophistication, with an authentic rootsy vibe that proves simply irresistible."
"A real live scorcher!" - Mike Davies of Folking.com
"A singular voice… embedded with soul and spirit." - San Francisco Chronicle
"A fresh and invigorating take on the Irish sound." - San Francisco Irish Herald
__________________________________
https://www.facebook.com/luciacomnesmusic/
http://www.luciacomnes.com/
https://www.youtube.com/watch?v=aZD1c8CJTew (official new)
Lucia Comnes Irish Duo: https://youtu.be/O5dZwlwq8J0
_________________________________
-------------------------------------------
Laura Callaghan started as a classical pianist since the age of 7 and was introduced to the world of Traditional Irish Music at age 11. She came to master the piano classically and traditionally, collecting numerous titles in Fleadh Ceoil All-Ireland competitions. From this she took up an interest in string instruments, beginning with Tenor Banjo, mandolin and in recent years, guitar. Laura won an All Ireland title after just a year of playing guitar, and has since become known as one of the few female Traditional Guitarists in the country. Laura is developing a reputation both as a singer, songwriter and a multi-instrumentalist performing extensively across Ireland, Europe and the United States performing in over 18 countries and 34 states in the past three years. Having toured with the band Perfect Friction, The Young Irelanders and numerous Irish dance shows Laura is now branching out in the songwriting industry as a solo artist and entertainer.
_________________________
https://www.facebook.com/lauracallaghanmusic/
https://soundcloud.com/laura-callaghan
https://www.youtube.com/watch?v=59agKLY06R8 (with Lucia Comnes)