Emma Langford (IRL)
20.07.2018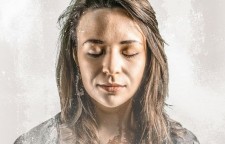 Emma Longford ist eine Folk-Gitarristin und Liedermacherin aus Limerick im Westen Irlands, die mit der Seele und dem Stil von Joni Mitchell, Eva Cassidy und Joan Baez verbunden ist. Ihr unverwechselbarer Gesangsstil zeigt eine Mischung aus irischem Lilat mit Folk und Jazz. Delikate Gitarrenarbeit ergänzt einen intuitiven Sinn für Melodie.
-------
Emma Langford is a folk guitarist and singer-songwriter from Limerick in the West of Ireland. Her distinctive vocal style is a stunning blend of Irish lilt with folk and jazz.
In October 2017 she released her debut album and completed a hugely successful month-long tour of Germany and Switzerland with the Irish Folk Festival, selling out venues and arenas throughout the country; she now returns to the road in 2018 on her international solo tour, to share her soul-searching songs and quick wit in intimate settings throughout Germany and the UK.
Emma was voted "Best Solo Female Artist" in 2017 by Ireland's Pure M Magazine, and was listed as Hot Press Magazine's one-to-watch in the summer of 2016.
____________________________
https://www.facebook.com/emmalangfordmusic/
http://www.emmalangfordmusic.com/
https://www.youtube.com/watch?v=6YQu8QVPoBs