Megan Nash (CAN)
18.04.2019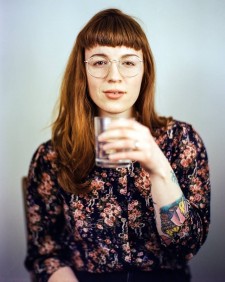 Für ihr letztes Album "Seeker" arbeitete die aus Saskatchewan stammende Singer/Songwriterin Megan Nash mit der Ambient/Alternativ Rock-Gruppe Bears In Hazenmore zusammen - mit brilliantem Resultat. Im scharfen Kontrast zur Unbedingtheit der bejubelten Vorgänger-Platte "Harvest Volume One", schiebt "Seeker" Nashs Rotts-basiertes Songwriting auf neues akustisches Terrain, indem es klar die nicht zu verleugnende Chemie zwischen den Musikstilen zur Schau stellt, die sie mit der Band innerhalb des letzten Jahres entwickelte.
Wie der Name des Albums schon vermuten lässt, befindet sich Megan Nash auf dem Höhepunkt ihrer persönlichen Expedition nach spiritueller Bedeutung zu ihren eigenen Bedingungen. Ihr gewählter Weg ist ist der durch die Musik und gleich einem künstlerischen Statement, hebt "Seeker" die Spannweite von Nashy Talent als Songwriterin, Sängerin und Produzentin hervor - der Gipfelpunkt einer Etappe ihrer Reise, während sie bereits die nächste beginnt.
---
On her latest album Seeker, Saskatchewan singer/songwriter Megan Nash collaborates with ambient/alt-rock unit Bears In Hazenmore with brilliant results. In sharp contrast to the starkness of her previous acclaimed album Song Harvest Volume One, Seeker takes Nash's roots-based songwriting into bold new sonic territory, displaying the undeniable chemistry she has forged with the group over the past year.
That shared excitement was the hallmark of the sessions that produced Seeker over the winter of 2017 with engineer Orion Paradis (Library Voices), held at Soul Sound in Regina, a space shared with a contemporary dance studio. The flexibility of the location offered Nash the freedom to fully explore the range of her new material, from the atmospheric "Girl Vs Ocean" and "Summer," to the anthemic "Lavender & Leather" and "Bad Poetry."
But as the concept of Seeker (embodied as well in its title track) suggests, Megan Nash is in the midst of her personal quest for spiritual meaning on her own terms. Her chosen path is through music, and as an artistic statement, Seeker displays the breadth of Nash's talents as a songwriter, vocalist and producer—the culmination of one stage of her journey while simultaneously beginning the next.
______________________
https://www.facebook.com/megannashmusic/
https://www.megannash.ca
https://www.youtube.com/watch?v=L_HnRny0j8E