Bobbo Byrnes (USA)
23.07.2019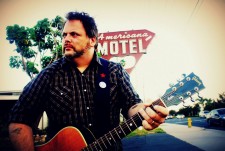 Bobbo Byrnes ist kein Musiker, der lange still bleibt. Ob mit seinen Bandprojekten "The Fallen Stars" und "Riddle & The Stars" (auch schon im Tonfink zu Gast gewesen!) oder solo - Byrnes spielt um die 150 Shows pro Jahr. Nun bringt die bekennende Rampensau sein zweites Solowerk auf den Markt und bleibt dabei seinem Genre treu: Rustikaler Americana-Rock soll es sein.
Ausgerüstet mit einer Akustikgitarre vermittelt der Kalifornier Bobbo Byrnes mit seinen Songs verrauchte Americana-Stimmung, die klassisch und zeitgemäß zugleich ist. In seinen Liedern erzählt er von Road-Trips quer durch die USA, von schmuddeligen Gaststätten und von Leuten, die er im Laufe seiner Musiker-Karriere getroffen hat. Im Byrnes alltäglichem Musikerleben ist er jedoch kein Solo-Musiker, sondern Teil des Americana-Duos "The Fallen Stars", dessen zweites Mitglied Ehefrau Tracey Byrnes ist. Bei der Band fungiert er nicht nur als Frontmann, sondern auch als Songschreiber, Produzent, Gastmusiker, Roadie, T- Shirt Designer und Chauffeur.
In den letzten zwei Jahren haben die beiden über 300 Shows auf der ganzen Welt gespielt. Unter ihren Auszeichnungen sind Preise wie der Orange County Music Award in der Kategorie "Best Country/Americana Band" und der "Best Live Band 2015-Award" der Wochenzeitung OC Weekly. Als Solo-Interpret kam Byrnes ins Finale der "Best Male Performer of the Year" in der SoCal Live Music Competition und zeigt damit, dass er auch alleine eine wahre "Rampensau" ist.
---
Bobbo Byrnes is not a musician who remains still very long. Between The Fallen Stars, Riddle and The Stars, and solo performances, Byrnes plays about 150 shows every year. That being the case, it's no surprise that from Billerica to Berlin, his songs are born from a life on the road. You need look no farther than "Heart like Mine", in which he explores the theme by singing about the roads that take him from show to show.
Two Sides to This Town is an album that is a product of Byrnes' busy touring schedule. However not all of the songs are road songs. "Angelia" is a contemplative song, and the one from which the album takes its title. "Angelia, is the spark, the kick in the ass that makes you get up and do something. It's a song about the muse that inspires you to look beyond your own front yard and be a better version of yourself."
Seeking is another common theme on this album, whether the object of the search is answers to a division of people, a car that doesn't break down all the time, or simply the next show. With Byrnes the search for the next show is constant, which is a good thing because it means he'll continue to write and record heartfelt songs like the ones on this album.
Bobbo will be on tour in Texas in March, 2019, Arizona in April 2019, California in May 2019, U.K. in June, Germany, Belgium, Netherlands, Austria, Czech Republic in July and August 2019, East coast of the U.S. in November and Australia in December 2019.
_____________________________
https://www.facebook.com/bobbobyrnes
https://www.bobbobyrnes.com
https://www.youtube.com/watch?v=tNg5ZSTfbPw
https://www.youtube.com/watch?v=s4XMmjwyrDk (+)