Kaurna Cronin (AUS)
24.07.2019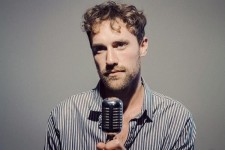 Der preisgekrönte Folkster Kaurna Cronin kombiniert bedeutungsvolle Lieder mit einem reichen musikalischen Spektrum aus Folk, Roots und Indie-Rock. Eingebettet in Balladen oder Boogies, nimmt er sein Publikum mit auf eine musikalische und poetische Reise.
Gemeinsam mit seiner Band liefert Cronin einen folkloristischen, australisch inspirierten Sound, der sein lyrisch getriebenes Songwriting lustvoll ergänzt.
Mit nur 26 Jahren hat Cronin bereits fünf Alben veröffentlicht und zahlreiche Auszeichnungen gewonnen.
Die Folk Alliance Australia hat sein Talent schon 2015 erkannt, als sie ihn als "Artist of the Year" auszeichnete. Die APRA AMCOS zog kurz danach mit dem 'Emily Burrows Award' nach und sein letztes Album "Euphoria, Delirium & Loneliness" wurde von ARBA als "Roots Album Of The Year" ausgezeichnet.
Cronin und Band haben in den letzten Jahren über 300 internationale Auftritte in Australien, Italien, Deutschland, Schweden, Österreich, den Niederlanden, Russland, Belgien, Estland, Lettland, Litauen, Polen und Indien absolviert.
2019 erscheint eine Reihe von Singles und ein neues Album, das in Deutschland und Australien aufgenommen wurde und unter der Leitung der Produzenten von David Bowie, Rolling Stones und Midnight Oil entstanden ist.
-----------------------
Multi-award winning folkster Kaurna Cronin is heralded as one of Australia's most entertaining young performers, an internationally acclaimed songwriter and an emotive and hilarious storyteller. Renowned for his relentless touring schedule and his ability to capture audiences for a thrilling musical and poetical journey.
Accompanied by his merry band of country, bluegrass and gypsy inspired folk rockers Tom Kneebone, Kiah Gossner and Kyrie Anderson, Cronin's unique folk blend and multi award winning performances have cemented this young singer-songwriters position at the height of contemporary Australian folk music.
AFTER BEING AWARD FOLK ALLIANCE AUSTRALIA'S 'ARTIST OF THE YEAR' 2015 ALONG WITH A PLETHORA OF OTHER ACCOLADES HE HAS MUSTERED 300+ PERFORMANCES INTERNATIONALLY IN THE PAST YEARS PLUS MAJOR FESTIVAL APPEARANCES AT WOODFORD FOLK FESTIVAL, PORT FAIRY FOLK FESTIVAL AND NATIONAL FOLK FESTIVAL.
KAURNA IS SET FOR THE RELEASE OF HIS LATEST SINGLE 'LEAVE YOUR LOVE BEHIND' ON MARCH 29TH.
KAURNA CRONIN COULD VERY QUICKLY SPARK A NEW GENRE AND SOUND ACROSS THE FACE OF MUSIC. - FORTITUDE MAGAZINE (UK)
"EXCELLENT HARMONIES COMPARABLE TO THE GREAT CROSBY, STEELS AND NASH"- ROCKTIMES (DE)
"SOUTHERN LOSS IS CERTAINLY A CONFIRMATION OF THE HIGHEST EXPECTATIONS FROM KAURNA CRONIN AFTER THE SUCCESS OF HIS FIRST ALBUM...A MUST FOR YOUR CULTURAL ENRICHMENT" - ROOTSTIME (BE)
___________________________________
https://www.facebook.com/kaurnacronin/
http://www.kaurnacronin.com
https://www.youtube.com/watch?v=uA5bPehR74Y