Adriano Trindade (BRA)
07.08.2019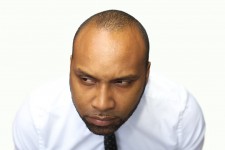 Der brasilianische Musiker Adriano Trindade spielt Jazz/Brasil und Samba-Rock (aus Brasilien). Nach seinen Solo- und Festivalauftritten in ganz Europa, Mittelamerika, Neuseeland kann man schon sagen, dass Adriano ein richtiger Weltbürger ist. So wie er als Wegbereiter des Samba-Rock in Neuseeland und Europa (wo er acht Jahre lang lebte) wahrgenommen wird, war er der Samba-Rock- Bewegung, die für einige Jahre nach London und Paris ins Favela Chic schwappte, immer etwas voraus.
Ob in Brasilien, Ozeanien oder Europa: Die Auftritte sind immer geprägt durch den ansteckenden Samba-Rock-Beat, den Swing und auch durch mit Jazz vermischten MPB - das Ganze in Kombination mit seinem Charisma überwindet alle Grenzen und erobert die Welt.
"This brazilian guy is considered the jazz musician from Brazil, that played in more countries in 2015 and 2016"

---
"The Brazilian musician Adriano Trindade is Jazz Brazil"
Brazilian musician Adriano Trindade plays Jazz/Brasil and samba-rock (from Brasil). Going through several countries including the Netherlands, Belgium, France, Spain, Italy, Ireland, Scotland, Switzerland, Chile, Uruguay, England, New Zealand, Denmark, Germany, Czech Republic, to name a few, one can already say that Adriano is a citizen of the world.
Considered the precursor of samba-rock in New Zealand and Europe, where he lived for eight years, Adriano Trindade has always been ahead of samba-rock movement that swept London and Paris for a few years, where the shows took place at the renowned Favela Chic, known playhouse worldwide.
Adriano Trindade has done shows in 34 countries, in general summary. The beginning was with a winning season 1 year, playing in the biggest festivals in Oceania (Jambalaya Festival and Axe Weekend) and has gone through several cities in New Zealand. Adriano participated in big festivals in Europe as Glasgow Festival, Prague Jazz Festival, Love Box (London), Mont Blanc Festival, Munich Festival, Brazilian Festival and Royal Albert Hall Festival, Jazz Festival Prague, Brno Festival, and has played in houses like Ronnie Scotts Jazz Dock, Reduta Jazz, Full Jazz, North Sea Jazz (Amsterdam), Rio Scenarium (BraziL), U Jazz Club, Dr. Gabs, Favela Chic, Florianopolis, Hot Club de Lyon,Monument Jazz (Sarajevo), Jazz Dock, Reduta Jazz, South Williams, Lermitagge,Mostar Jazz Festival (Bosnia), Jazz Skopia (Macedonia) among others. In Italy Adriano did a beautiful partnership with the Italian singer Lisa Marone, recording together a job that mixes jazz with bossa nova. Also released 2 albums, SOTAQUE BRASIL and LADO B, both by the Italian stamp GB Music, based in Rome.
In 2008 he recorded a solo album by the German label "German Company" released in Germany, South Korea and Australia, which has its own compositions.
From August 2012 until January 2013 Adriano made a long tour in Czech Republic, Slovakia, Sweden and Denmark, releasing their third CD, entitled "LIVE IN Cernošice" recorded in the city that the name of the disc, the KINO THEATER, Trinity did 38 shows alongside the most famous jazz musicians from the center of Europs, Los Quemados Jazz.No repertoire fresh and imposing blend of MPB and Jazz.
Whether in Brazil, Europe and Oceania, your presentations are always marked by the infectious beat of samba rock, swing, and also MPB mixing with Jazz, in addition to his charisma going away, cross borders and conquer the world.
In 2015 Adriano recorded the DVD "Live in Prague" and the 4th cd of his career, both in Prague (Rep.Tcheca), with the support of the Los Quemados Jazz. In 2016 Trindade visited 28 countries in Europe, 130 concerts in 97 differents towns. Countries like Latvia, Lituania, Eston, Kosovo, Bosnia and Croacia was included North Sea (Amsterdan), Ronnie Scott (London), Kongsberg Jazz Festival (Norway), Jazz Dock (Praga) Monument Jazz (Sarajevo), Mostar Jazz Festival (Mostar), Igor Butman Jazz (Moscow), Favela Chic (Paris), Glasgow Jazz Festival (Glasgow), Kotrynos (Vilnius), Alchemist Jazz (Kiev), Vladmirov Jazz (Minsk), Porec Jazz Festival (Croácia), Jazz Buffet (Sófia), plus interviews for France television, Macedonia television, Belorus television, Tchec television, and Sérvia Television for example.
The last CD from Adriano Trindade is played in all of Europe's Jazz and Latin Jazz radio-stations.
The DVD released by the label Loop Records from Brazil .
The new tour started last April, and at this moment, Trindadade played in 34 countries in 2017, festivals, jazz places and theaters. The new CD, "Balancando o Jazz" is available on 54 digital platforms in many countries over Europe. This is the 5th CD in his carreer.
"This brazilian guy is considered the jazz musician from Brazil, that played in more countries in 2015 and 2016"
________________________
https://www.facebook.com/adrianotrindadeoficial/
http://www.adrianotrindade.net
https://www.youtube.com/watch?v=IkmmNC7QPUo (full band)
https://www.youtube.com/watch?v=pXU11Bx1pbU (solo live)