Fox and Bones (USA)
15.08.2019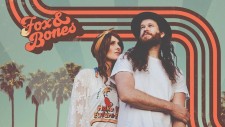 Fox and Bones ist eine konzeptionelle Folk Pop-Zusammenarbeit der amerikanischen Songwriter Sarah Vitort und Scott Gilmore aus Portland, Oregon. Das international tourende Folk Pop Duo kombiniert opulente Harmonien und eine komplexe, herzerwärmende Textlandschaft mit mal weichzeichnender, mal treibender musikalischer Untermalung.
Vom europäischen Musik Blog Rockette wurden sie als " süchtig machend wie Erdnussbutter" beschrieben und waren im Rennen als Portlands beste Folk Band bei der Willamette Week 2017.
Der Wiener Wurstelstand konstatiert: " Diese beiden werden Euch mit ihren süßen und delikaten Melodien betäuben und Euch mit ihren komplexen Texten gewinnen. Empfohlen wenn ihr gern langsam den Dingen nähert"
Vielleicht fasst Luke Neill vom Portland Radio Project am besten zusammen: " Dese beiden Stimmen verschmelzen so perfekt miteinander, dass man nie mit dem Zuhören aufhören möchte."
---
Fox and Bones are the modern day Bonnie and Clyde, if Bonnie and Clyde had driven a Volvo and played folk-pop music. Based in Portland, OR, these internationally touring sweethearts aren't your average duo. Rather than simply documenting their experiences in song, Sarah Vitort and Scott Gilmore write from the perspective of quasi-fictional characters. There's Fox, a down-and-out it girl, and Bones, a rootless orphan bad boy with a heart of gold. The two fall for each other, decide to hit the road, and never look back. The characters, as well as their real-life counterparts, use music as the canvas on which they paint a new life together that defies traditional relationship roles and life goals. Their music is ripe with vocal harmonies that pull at the heartstrings and a complex, at times metaphysical, lyrical landscape. Each element serves their stories of a life lived on the road, in pursuit of a dream that most never have the courage to chase. Live, they give audiences a peek into their world and challenge them to believe in life, adventure, and modern love.
In 2016, the pair met, and their chemistry was instant. The two wrote their first song over Facebook Messenger and the rest, as they say, was history. Within six months, they released their debut self-titled EP, recorded with Justin Phelps at the Hallowed Halls in Portland, OR. Portland Radio Project's Teri Briggs said, "Their two voices meld so perfectly together that you never want to stop listening."
The band's rise in the Portland music scene was swift, and another six months later, they released their first full length album, a concert album titled The Remarkable Adventures Of, also recorded at the Hallowed Halls with Phelps. Vitort said of the album, "writing from the perspective of fictional characters embarking on an unconventional journey allowed us the creative freedom to construct the life of our dreams through the songs. We wrote about the life we wanted to live, not the life we were already living." Their dreams of a nomadic lifestyle powered by music were realized when they took the album on tour in the US and in Europe. European music blog Rockette was introduced to the pair on their first tour, and gushed, "Fox and Bones [reminds] us of the beauty of the USA. With music that goes down like jelly . . . and [is] addictive like peanut butter."
In the fall of 2017, the two began working with producer, Dominik Schmidt, and engineer, Matt Greco of The Rye Room, looking to evolve and add more mainstream pop elements to their quiet, folky sound. The first effort by the new team was the single "Love Me Like a River," which quickly made a name for itself in Portland and beyond. The song debuted on Portland's Kink Radio, and was met with positive feedback from fans and press alike. Glide Magazine said the song "reflects with the prowess of Hozier, with Fleetwood Mac pop overtones that make for a modern day power folk duo."
Over the last year, the duo has continued to work with Schmidt and Greco on their sophomore effort, due out fall of 2018. The album, titled Better Land, will introduce fans to a whole new iteration of Fox and Bones that was teased with "Love Me Like a River." It's a sound with rocking drums, grooving baselines, and melodies that are catchier than ever. But don't worry, those who fell in love with Fox and Bones for their simple, harmony-driven songs will not be disappointed. Better Land has something for everyone, appealing to the adventurous spirit in all of us. Gilmore and Vitort continue to manifest the lives they want to live through song, encouraging listeners to dream as big as they have.
The second single from "Better Land", the funky folk pop "Little Animal", was released to a flurry of press accolades on August 31st, 2018. PopMatters calls the song a "jovial, clap-along tune [that] is meant to be a reflection on life itself. Musically, it gets the job done by featuring sunny hooks and sweet shared vocals that never veer too hard from its pop basis." Austrian publication WhatISawFromTheCheapSeats adds that the adventurous storytelling nature of the song is reminiscent of the stories of Paolo Coelho, praises the song's "joie de vivre."
In the small window of time that they aren't on the road, Fox and Bones has also founded Portland's Folk Festival, which sold out in its first year and continues to grow. The two aim to create culture and camaraderie around folk music in Portland, bringing musicians and music fans together in a lasting and mutually beneficial way to celebrate Portland's thriving folk scene.
_______________
https://www.facebook.com/FoxandBones/
https://www.foxandbones.com
https://www.youtube.com/watch?v=JRzvBBp2g2c (2017)
https://www.youtube.com/watch?v=Nr-RYRMdH6A (2018 neu)