Tim McMillan & Rachel Snow (AUS)
23.08.2019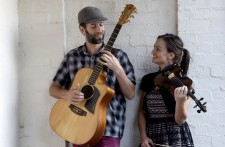 Tim McMillan & Rachel Snow sind ein Duo aus Melbourne, das zurzeit in Deutschland lebt. Tim ist ein perkussiv arbeitender Fingerstyle-Gitarrist und sonderbarer Geschichtenerzähler und Rachel ist eine außergewöhnliche Violinistin.
Das Duo präsentiert eine unverwechselbare Mischung aus Celtic Rock, Folk, Metal und Jazz. Tim und Rachels Konzerte sind angereichert athletischen Gitarren-Stunts, verwobenen Geigen-Eskapaden und einer magischen Mischung von Gesang, all das ergänzt durch witzige Geschichten aus dem australischen Busch.
Neben ihren eigenen Auftritten sind die beiden mit Ugly Kid Joe in Europa und Australien getourt waren als Main Support für Motorheads Phil Campbell and the Bastard Sons in Deutschland unterwegs.
---
Tim McMillan & Rachel Snow are a duo from Melbourne, Australia, currently based in Germany. They entertain and delight audiences across the world performing over 140 concerts each year. Tim is a percussive/fingerstyle guitarist and outlandish yarn spinner and Rachel is an exceptional violinist and accomplice in Tim's whimsical narrative.
Together they perform a creative mix of styles including Celtic rock, folk, metal & jazz. Tim and Rachel's shows are filled with athletic guitar stunts, interwoven violin antics and a magical blend of vocals accompanied by hilarious stories of life on the road and tales from the Australian bush.
Apart from their own shows Tim and Rachel have toured with Ugly Kid Joe supporting them on European and Australian tours in 2016/2017. They have also tour with Motorhead's Phil Campbell and the Bastard Sons as main support for their tour in Germany in November 2018.
The latest album from Tim and Rachel, 'Hiraeth', is a collection of instrumental pieces and songs composed & recorded while on the road throughout Europe. The album also features a variety of guest musicians from the rock world, including members of Motörhead, The Sisters of Mercy, Ghost, Ugly Kid Joe and Mr Bungle. Tim and Rachel are currently working on their next album to be released later in 2019.
The highlight of Tim and Rachel's Australian Summer Tour 2018/2019 was performing at Woodford Folk Festival along with performances at MONA, The Toff in Town, Caravan Music Club and various other performances in TAS, VIC, ACT and NSW. The rest of 2019 will see the duo on tour again through Japan, Germany, Switzerland, Italy, Austria, Poland, the Netherlands, Iceland and the UK before returning to Australia in November for their Australian Summer Tour 2019/2020.
______________________
https://www.facebook.com/timmcmillan/
http://www.timmcmillanrachelsnow.com/
https://www.youtube.com/watch?v=ZJDq4c5RA3s
https://www.youtube.com/watch?v=ib69dwADWZg