Sam Lewis (USA)
27.08.2019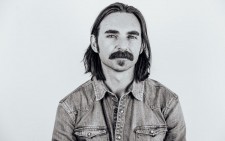 Sam Lewis hat von Leon Russell bis zu The Wood brothers mit jedem zusammengearbeitet. Chris Stapleton verpasste ihm den Stempel eines "modernen Townes Van Zandt". Meist wird er mit irgendeiner Form des Wortes "gefühlvoll" beschrieben (manche verglichen seine Stimme sogar mit Sirup), Lewis' Stil verkörpert ein Aufeinandertreffen verschiedener Genres
- wie auch immer ist da etwas unbeschreiblich unterschiedliches und mit seinem jüngstes Werk (Loversity) hat er entdeckt, wofür die meisten Musiker ein Leben lang dran arbeiten: den Platz, an dem Wohlfühl-Musik lebhafte soziale Erläuterungen trifft.
Mit reicher, gefühlvoller Stimme, gut gemachten Songs, die in Country und blauäugigem Soul wurzeln, verbindet Sam Lewis die Punkte. Ob er nun Genres oder Staatsgrenzen überschreitet, er hat eine Geschichte zusammengesetzt, die die Menschen anhören müssen. Sams Debutalbum "Waiting on You" hat eine Top review von Mojo erhalten und wurde in der Top Country-Alben-Liste des Telegraphs 2015 geführt.
Seine Platte "Loversity" von 2018 beinhaltet 14 Songs, an denen er eineinhalb Jahre lang arbeitete. Im Vergleich mit "Waiting on You" bleibt sein klassischer Stil präsent, wird aber erwachsener, mit verfeinertem Weltblick. "Diese neuen Songs waren schwieriger zu schreiben, aber extrem notwendig bei dem Zustand, in dem ich die Welt gerade sehe". In Zeiten, in denen aktuelle Geschehnisse in der Welt die Massen aufgrund ihrer Unterschiede spalten, ist Sam Lewis neues Album eine mit Herz angereicherte, eingängige Zusammenstellung von Erinnerungen daran, dass Verschiedenheit und Einheit durchaus gleichzeitig existieren können.
Das Glide Magazin gab dem Album 8 von 10 Sternen und konstatierte:" .. in einem Jahr, das absolut vollgepackt mit starken Alben ist, liegt dieses dicht an der Spitze". Außerdem gab es Lob von Art + Design, AXS, Rolling Stone, PopMatters, Billboard und American Songwriter. Lewis tourte kürzlich mit Bands wie Los Lobos, Hard Working Americans, Marty Stuart & His Fabulous Superlatives und Delbert McClinton.
PRESSE
"Da tropft so viel Sul aus den Poren dieses Kerls, dass man drin baden könnte. Es ist, als höre man zum ersten Mal Al Greene." – Grant Britt, No Depression
"…er klingt wie aus einer anderen Zeit - oder zeitlos. In jeden Fall gut." – **** Sylvie Simmons, Mojo Magazine
"...ein moderner Townes Van Zandt" ...Chris Stapleton
---
Sam Lewis has collaborated with everyone from Leon Russell to The Wood Brothers. Chris Stapleton dubbed him "a modern Townes Van Zandt". He's often labeled with some form of the word 'soulful' (some have even compared his voice to molasses), Lewis' style meets at a juncture of many different genres however there's something indescribably different and with his most recent works (Loversity), he's discovered what most musicians spend lifetimes working for; the place where feel-good music meets vital social commentary.
With rich soulful vocals, well-crafted songs, roots country and blue-eyed soul Sam Lewis is connecting the dots. Whether crossing genres or state lines, he has pieced together a story people need to hear. Sam Lewis' debut album 'Waiting on you' received a top review from Mojo and featured in the Telegraph's list of top country albums from 2015.
Lewis' record Loversity released in May 2018 is composed of 14 tracks that Lewis has spent over a year and a half writing and playing for others. Since Waiting on You, his classic style remains present yet matured, with a more refined worldview, "These newer songs have been harder to write, but extremely necessary given the current climate I find the world in." Recorded at Southern Ground Studios with engineer and co-producer Brandon Bell, the album spans from upbeat songs like the title track "Loversity" to the darker "One in the Same," an electric guitar heavy ballad with a driving force reminiscent of the Black Keys' Brothers. While most songs are originals, the record includes "Accidental Harmony", a lullaby that fellow Nashville songwriter John Mann wrote for his first born child, and "Natural Disaster", a Loudon Wainwright song that Lewis felt drawn to.
As current events in the world divide the masses based on difference, Sam Lewis' new album is a soul-filled, catchy collection of reminders that diversity and unity can co-exist.
Glide Magazine gave the album 8/10 stars, saying, "... in a year absolutely packed with strong albums, this one is right near the top." The album has also received praise from outlets like Art + Design, AXS, Rolling Stone, PopMatters, Billboard, and American Songwriter, which featured an insightful track by track from Lewis himself. Lewis has recently toured with bands like Los Lobos, Hard Working Americans, Marty Stuart & His Fabulous Superlatives, and Delbert McClinton, in addition to appearing on lineups for 2018's Savannah Stopover and the coveted Luck Reunion, held on Willie Nelson's ranch.
As of late summer 2018 Sam Lewis has over 1 Million streams on Spotify.
PRESS
"There's so much soul pouring out of this guy's pores you could bathe in it. It's like hearing Al Green for the first time." – Grant Britt, No Depression
"…he sounds from another time, or timeless. Either way, good." – **** Sylvie Simmons, Mojo Magazine
"...a modern day Townes Van Zandt" ...Chris Stapleton
__________________________
http://www.facebook.com/samlewistunes
https://www.samlewistunes.com
https://www.youtube.com/watch?v=_ea5nsVOuf0 (official)
https://www.youtube.com/watch?v=aSDAbxUKm8M (official)