Prita & Jenny Biddle (AUS)
09.09.2019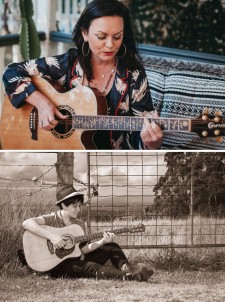 PRITA
Der Sommer im Tonfink mit guten Bekannten ♥ Prita Grealy – australische Songwriterin und Sängerin- lebt z.Z. in Berlin und tourt von dort aus kreuz und quer durch Europa. Mit ihrer souligen und klaren Stimme, ihrem absolutem Rhythmus Gefühl, unterstützt durch ihre Akustik – Gitarre und einem Loop Pedal, kombiniert Prita ihre Liebe zu Hip-Hop, Soul und Folk. Sie erzählt Geschichten aus ihrem Leben in einem ganz individuellen Sound, der keinen Zuhörer unberührt lässt.
https://www.facebook.com/prita.grealy
https://prita.com.au
https://www.youtube.com/watch?v=YBCluelQmB8
https://www.youtube.com/watch?v=EaeCVanv-c8 (sofar)
__________________
JENNY BIDDLE
Die australische Indie-Folk- & Blues-Sängerin, lebhafte Gitarristin und genesende Schokoholikerin Jenny Biddle ist zum ersten Mal in Deutschland unterwegs. Sie feiert ihr sechstes Album und wird am besten live miterlebt, denn sie hat "die besondere Gabe, einen großen Raum in ein Wohnzimmer zu verwandeln". (Australian Stage 2013)
http://www.facebook.com/jennybiddlemusic
http://www.jennybiddle.com
https://www.youtube.com/watch?v=AWjztTtR7k8
_______
PRITA
'Once you experience Prita's exceptional live loop show, you'll be hooked by her soulful rhythmic songs and captivated by her stunning vocal performance. It's easy to see why 'European audiences are sitting up and taking notice of this captivating musician from Fremantle'. Australian Times, UK
After supporting the likes of Simply Red, John Paul Young, and Ed Kowalczyk of the band 'Live', Prita moved to Berlin to pursue her international touring dream, and has been busy touring Europe & the UK ever since.
Showcasing her 7th independent Album, 'Northern Lights' on her current touring circuit and poised to launch her 8th Album in 2019. Prita is immersed in the music scene as a full time singer songwriter playing festivals and music venues around Europe, securing airplay on radio, and reviews in the press internationally.
Prita's unique sound is 'Hip-Soul-Folk'. It combines her love of Hip-Hop, Soul and Folk with the use of a live loop pedal and effortlessly layering funky urban harmonies, acoustic fingerpicking guitar and beat boxing. Prita has been likened to a Beth Hart, Tracy Chapman and Norah Jones.

What people are saying about 'Prita'
'Prita also uses her voice, her greatest asset, together with a loop pedal and at times a stomp box to create a sort of one-man-band, or should I say woman, in order to create her own flavour of folk. It is this innovation that sets Prita apart from the other folk musicians' Soulshine live Review (AU)
"The loop is just one aspect of a technically rich performance, underwritten by a flexible yet always impressive voice, which succeeds in giving layers of musical depth to this one-woman show." Wil Fitzgibbon – The Australian Times (UK)
"We sent our review team to Swindon to check out Prita, an Australian newcomer on her UK autumn tour. They came back singing her praises (as well as some of her catchy songs)... Oh and what a voice! She had our two chaps a little besotted by her and her music." British Urban Review (UK)
'with an excellent sense of rhythm, and an exceptional voice she astounds the audience' Lemgo Brake News, (DE)
---
JENNY BIDDLE
Aussie indie folk & blues singer, feisty female guitarist and recovering chocoholic, Jenny Biddle, tours Germany for the first time. Celebrating her 6th album, she is best witnessed live with "that peculiar knack for making a large space like a lounge room" (Australian Stage 2013).