Jake Shane (USA)
11.09.2019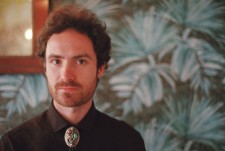 Jake Shane ist ein US-amerikanischer Singer-Songwriter und Record-Artist. Er ist bekannt für seine Lyrik, seine lebendige Stimme und sein professionelles Gitarrenspiel, bei dem Americana, Vorkriegs-Blues und Flamenco-Techniken meisterhaft kombiniert werden, um einen fesselnden Klang zu kreieren.
Seine intensiv visuellen Texte verschmelzen das Heilige mit dem Alltäglichen und zeigen eine raffinierte Poetik, die ihn von den Songwritern seiner Generation abhebt. Es ist kein Wunder, dass Jake regelmäßig mit Leonard Cohen und Bob Dylan verglichen wird.
Jake Shanes Songs entführen uns in eine Gegend, die von Rettern und Fremden bewohnt ist und irgendwo zwischen Minutenbruchstücken und der Ewigkeit liegt. Seine Stimme verzehrt sich und sucht, seine Sprache ist so frisch und ursprünglich wie auch verführerisch. Durch schwermütige, ausgelassene, mystische und feierliche Wendungen kanalisiert Jakes Musik den Geist der Blues und Folk-Tradition, während sie neues Leben in alte Formen atmet. Seine Symbole sind vertraut, die Geschichten sind seine.
_____________________
JAKE SHANE IS AN AMERICAN SINGER-SONGWRITER
CURRENTLY BASED IN SPAIN. HE MAKES HIS LIVING AS A
TOURING MUSICIAN, SINGING SONGS ABOUT THE TRIALS
AND TRIUMPHS OF LIFE. HIS THIRD ALBUM, WATER TO LAND,
WAS RELEASED IN 2018.
FORTHCOMING PROJECTS INCLUDE LIMITED A EDITION
LYRIC BOOK, WHICH WILL BE AVAILABLE IN A BILINGUAL
EDITION (ENGLISH-SPANISH), A BOOK OF POEMS WITH
DRAWINGS BY THE ARTIST, AND HIS FOURTH STUDIO ALBUM.
BIOGRAPHY
JAKE SHANE PLAYED HIS FIRST CONCERT IN 2004 IN HIS HOMETOWN OF SPRINGFIELD, ILLINOIS AND HAS BEEN GIGGING EVER SINCE. HE LEFT THE MIDWEST IN 2008 TO MOVE TO NASHVILLE, WHERE HE RECEIVED A DEGREE IN PHILOSOPHY, WORKED FOR JOHN PRINE'S OH BOY RECORDS AND COMPOSED THE SONGS TO HIS FIRST ALBUM, ANCIENT FIRE (2012). THIS DEBUT ALBUM COMBINES THE FOLK, BLUES AND AMERICANA HE GREW UP LISTENING TO WITH LYRICS THAT DREW INSPIRATION FROM THE BROTHERS KARAMAZOV BY FYODOR DOSTOEVSKY.
IN THE FALL OF 2012, JAKE MOVED TO SPAIN. WHILE BECOMING FLUENT IN SPANISH HE ABSORBED HIMSELF IN MADRID'S FLAMENCO SCENE, LEARNED ABOUT THE FLAMENCO TRADITION, WROTE REVIEWS FOR THE FLAMENCO WEBSITE CHALAURA.COM AND TAUGHT HIMSELF FLAMENCO GUITAR. IN 2014, HIS TRANSLATION OF PABLO SAN NICASIO'S BOOK, CONTRA LAS CUERDAS [STRINGS ATTACHED], WAS PUBLISHED BY OSCAR HERRERO EDICIONES. THIS WORK IS THE LARGEST PUBLISHED COLLECTION OF INTERVIEWS OF CONTEMPORARY FLAMENCO GUITARISTS.
THE MUSICAL WORK RESULTING FROM THIS PERIOD WAS EVENING SOUNDS (2015), AN ALBUM STEEPED IN FLAMENCO GUITAR WITH A NEAT BLEND OF AMERICANA AND FOLK, COMBINED WITH LYRICS DRAWN FROM PERSONAL EXPERIENCES IN SPAIN.
AFTER JAKE'S TIME IN SPAIN, HE MOVED BACK TO THE U.S., BUT DIDN'T STAY IN ONE PLACE FOR LONG. BETWEEN 2015 AND 2017 HE FOUND HIMSELF LIVING IN NASHVILLE, FLORIDA, NEW YORK, WASHINGTON D.C., AND NEW MEXICO. HE SPENT MONTHS HITCHHIKING THROUGH MEXICO WITH HIS BROTHER, TRAVELED TO CUBA, ISRAEL, BACK TO SPAIN, AND DROVE ACROSS THE U.S. A FEW TIMES. ALL THE WHILE, HE WAS STEADILY COMPOSING SONGS FOR HIS NEXT RECORD.
MUCH OF THE WRITING FOR HIS THIRD ALBUM, WATER TO LAND (2018), WAS FINISHED IN AN ISOLATED ADOBE HOUSE ONE WINTER IN THE HIGH DESERT OF NEW MEXICO. AFTER JAKE'S DEFINITIVE RETURN TO MADRID, HE RECORDED WATER TO LAND IN THE SUMMER OF 2018, IN MOBA STUDIOS WITH PRODUCER SERGIO MOLINA. MOST OF THE ALBUM WAS RECORDED LIVE, IN THREE DAYS, WITH A BAND OF ENGLISHMEN.
HE HAS TOURED THE USA, SPAIN, PORTUGAL, ITALY AND GERMANY EXTENSIVELY AND WILL ALSO VISIT SCANDINAVIA IN 2019.
PRESS
"JAKE SHANE'S ALBUM EVENING SOUNDS NEATLY BLENDS FOLK, AMERICANA AND EVEN SOME SPANISH INFLUENCES FROM HIS TIME IN MADRID IN PLEASANT MELODIES WITH SOME CLEVER LYRICS ON SONGS SUCH AS 'BEFORE WINTER' AND 'SEASCAPE'. AN ENJOYABLE LISTEN." - MARTIN CHILTON, THE DAILY TELEGRAPH "JAKE SHANE'S SONGS TAKE US INTO A SPACE POPULATED BY SAVIORS AND STRANGERS, SITUATED SOMEWHERE BETWEEN MINUTE PARTICULARS AND ETERNITY. HIS VOICE YEARNS AND SEEKS, AND HIS LANGUAGE IS AS FRESH AND ORIGINAL AS IT IS BEGUILING. BY TURNS PLAINTIVE, ROLLICKING, MYSTIC, CELEBRATORY, JAKE'S MUSIC CHANNELS THE SPIRIT OF BLUES AND FOLK TRADITIONS WHILE BREATHING NEW LIFE INTO THE OLD FORMS. HIS CHARACTERS ARE OFTEN FAMILIAR; THE STORIES ARE HIS." - EMIR PARROTTA
__________________________
https://www.facebook.com/jakeshanemusic/
http://www.jakeshane.com
https://www.youtube.com/watch?v=dLetB-W7s1Q