Charlotte Carpenter (UK)
23.09.2019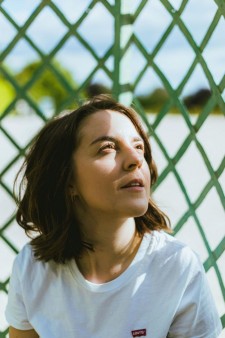 Charlotte Carpenter ist die perfekte Verkörperung von Unabhängigkeit.ihrer Bestimmung folgend und hochgelobt von Total Guitar, Best Fi, NME, Clash und Classic Rock wie auch von BBC Introducing und 2&6 Music. Mit einer wachsenden Zahl an EPs und Singles unter ihren Fittichen und zeitgleich auf Tour mit Marika Hackman, George Ezra, Hunter Hayes, Get Cape.Wear Cape und Fly arbeitete sich Charlotte mit ihrer 2017 erschienenen EP bis in die Frontreihe der alternativen Singer/Songwriter.
Ihre 2018er-Platte Babywoman ist ein dröhnendes Versprechen an die Frauen, die für die Freiheit kämpften, und mit Charlottes gefühlvollem, feurigem Gesang eine Erinnerung daran, dass man immer für die Dinge kämpfen sollte, die man am sehnlichsten wünscht, auch wenn die Chancen schlecht stehen. Dieser Gedanke entfachte auch etwas in Charlotte und so gründete sie noch im Jahr 2018 die Plattenfirma Babywoman Records, eine von Künstlern geleitete Gemeinschaft für Musiker, die ihr eigenens Ding machen wollen.
_______
Charlotte Carpenter is the perfect embodiment of independence, in charge of her own destiny and acclaimed by Total Guitar, Best Fit, NME, Clash and Classic Rock along side BBC Introducing, 2 & 6 Music.
With a growing number of EP's and singles under her wing and alongside heavy touring with the likes of Marika Hackman, George Ezra, Hunter Hayes, Get Cape. Wear Cape. Fly, Charlotte brought herself to the forefront of alternative singer/songwriter's, releasing Shelter EP in 2017 to 10" vinyl. Charlotte arrived liberated with singles Shelter and Fire, turning the ears of Total Guitar Magazine, claiming her as a "Guitarist To Watch for 2017". Fire caught the attention of Sky TV and picked up the ad for crime drama 'Shades of Blue' starring J-Lo. Playing major and indie music festivals such as Boardmasters, BlueDot, High & Lonesome and as she puts it "touring the UK upside down, inside out" Charlotte began thinking bigger and self booked, drove and played her first European tour for the release of Babywoman in March 2018. Babywoman is a stomping promise to the women who've fought for freedom and with Charlotte's soulful, fiery vocals at the mast it's a reminder to always fight for the things you want the most even if the odds feel against you.This sparked something in Charlotte and in the summer of 2018, Babywoman Records was born; an artist led community for musicians who want to do things their way. Her record label is now home to releases from other indie artists Alessi's Ark, Hunger Moon, Dom Major, Bloodmoon and Natalie Holmes with all releases gaining acclaim from BBC 6 Music, XFM and BBC Introducing. Charlotte has been selected for Latitude 2019 by BBC Introducing.
___________________________
"a distinctly different kind of singer/songwriter sound, and one that makes for an enthralling listen." Best Fit
"Charlotte Carpenter is a storyteller, a young artist capable of applying an enormous impact." CLASH
" An Independent artist to the core, Charlotte's star is rising" TOTAL GUITAR
_____________________
https://www.facebook.com/ccarpentermusic
https://www.charlottecarpentermusic.com
https://www.youtube.com/watch?v=cUV9_mFAdns