Laura Hoo (FIN)
07.11.2019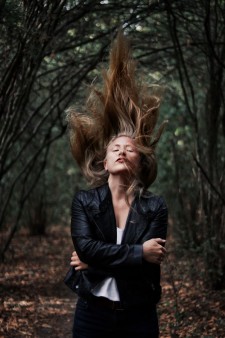 Laura Hoo's Gesang geht unter die Haut, aber es sind die Finnisch- und Schwedischsprachigen Songs die das Herz berühren. Bluesy Nordic Folk nennt sie ihren persönlichen Stil, gekennzeichnet von guten Songs mit Ohrwurmpotenzial und stilvollem Gitarrenspielen. Ihre EP "Music" nahm sie in Eigenregie live auf und sie klingt genauso wie gewollt: raw, warm, old-school und voller Magie.
---
After years in the hustle of Berlin, Laura Hoo from Finland found her own distinct sound. She calls it bluesy nordic folk, writing in English, Swedish and Finnish.
Her debut EP Music turned out exactly as planned - raw with the old-school feeling, full of surprises yet simple while containing that special kind of heart-warming magic.
With the mission to make people feel and connect through music she will sing you all blue and mellow, only to leave you with a song or two in your head, be it on the street, music venues, festivals or her favorite - entirely unamplified house-concerts.
__________________________________
https://www.facebook.com/laurahoomusic/
https://www.laurahoo.com/