Juhana Iivonen (FIN)
14.11.2019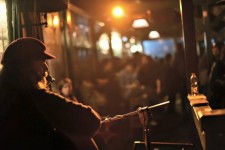 Der finnische Singer-/Songwriter Juhana Iivonen schreibt sehr persönliche Songs. Seit der Veröffentlichung seines Debutalbums 2009 tourte er durch Finnland und Mitteleuropa. Seine Songs wurden als "wie der erste Schnee der auf die Herbstbäume fällt" beschrieben. Wo auch immer er auf die Bühne tritt entsteht eine intime und herzliche Atmosphäre.
"Mit seiner ganz ruhigen und bedächtigen Art stand er in kompletten Gegensatz zu den vorherigen Beiträgen (der Folkmusik). "Two Little Rooms" war das erste Lied aus einer Serie von drei Stücken, die vor rund zehn Jahren in einem Rutsch entstanden waren, eine melodische Ballade mit unverschnörkelter und klarer Gitarrenbegleitung. Eine bezaubernde Liebesgeschichte beschreibt "Dream We Lived". Juhana hat sie in eine berückende Melodie mit schönen Tonartwechseln gewandet. Man muss das Lied tatsächlich mehrmals hören, um seine Schönheit wahrzunehmen – mein Lieblingsstück von Juhana. "Break the Chain" beschreibt, wie zwei Leute sich in der Eisenbahn begegnen. Die hin- und herschwingende Melodie untermalt die Geschichte perfekt. Natürlich durfte auch ein Lied in finnischer Sprache nicht fehlen. Juhana verriet uns leider den Titel nicht, aber schön war's. "Shine On" beschreibt das Elend der reisenden Musiker, die ihren Beruf nur schwer mit einer funktionierenden Beziehung kombinieren können. "A Native One" beschreibt die Situation, dass man so lebt, wie man geboren ist. "Fill This Room" ist ein Lied über den Paten von Juhanas Sohn, der leider viel zu früh sterben musste. Das Lied spiegelt die Vorliebe des Verstorbenen für Punk Music wider. Auch "Hardly Knew My Name" hat mit dem zu früh Verstorbenen Freund zu tun, ist aber eine ruhige und besinnliche Ballade... Riesenapplaus für Juhana und seine Musik. "
---
Juhana Iivonen is a Finnish singer - songwriter. From 2009 he has been working with his solo material, recording and touring in Finland and other European countries as an indie singer - songwriter. His self-titled debut album was recorded in peaceful countryside studio with guitarist and producer Aki Haarala. This bunch of folky tunes leans much to 60`s and 70`s songwriter tradition also with analogue recording techniques but still including a lot modern flavors with some pop feeling in it.
2010 there was much co-working with Italian singer - songwriter Gipsy Rufina and the year ends with a beautiful warm sounding split record Madam Fortuna. Father of an idea and a producer/engineer/mixer of the record was Belgium Peter Acoustic who led the sessions at atmospheric project studio rebuilt in an old horse stable at Bourgerouth, Antwerpen.
During 2011 touring was more intensive and also new material started to bubbling under. 2012 Juhana gathered few musicians together to record a new album during the summer. Also this record was recorded by Peter Acoustic. This Native One album (released by Smiling Lizard Music) includes songs with full band and also acoustic live takes.
In 2014 two records were released, Live in Weimar, eight songs live recording recorded at club Kasseturm in Weimar by Arne Lakenmacher and also split EP with English blues musician and songwriter Tim Holehouse. Juhana dedicates this record to memory of his past very good friend Petri.
New project started in October 2015 when Juhana toured two weeks with guitarist Aki Haarala and sound engineer Peter Acoustic. Idea was to record new songs on the road, in concerts, soundchecks, hotelrooms, where ever. Result of this project is live record October In Hamburg, which includes 15 songs recorded in 24 hours in the hotel room in St.Pauli and at Music Star Club in Norderstedt.
Still the core of the music of Juhana Iivonen is his live performances. During the years hundreds of club gigs, festival performances and house shows has deepened his ability to bring his intimate songs to people, and create unique and warm atmosphere where ever he steps on the stage. Touring and recording goes on. Stay tuned.
___________________________
https://www.facebook.com/juhanaiivonenmusic/
https://www.juhanaiivonen.com
https://www.youtube.com/watch?v=DkxNHVgT2vQ