Saskia Griffiths-Moore & Ludwig Wright (UK)
19.11.2019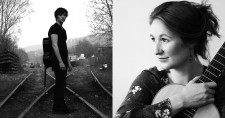 Die junge Brit-Country-Sängerin mit ungewöhnlicher Lebenseinstellung Saskia Griffiths-Moore und und der für eingängige Songs und Mitsingparts bekannte Ludwig Wright versprechen unserem Publikum einen abwechslungsreichen Abend.
SASKIA GRIFFITH-MOORE
Von der Harley Street zu den Abbey Road Studios - Saskia Griffiths-Moore ist eine junge Brit-Country Sängerin mit einer ungewöhnlichen Lebenseinstellung. Mit ihrem modernen und genreübergreifenden Songwriting, beeinflusst von Roots, Americana und Folk wird sie immer bekannter. Ins Leben startete Saskia als Massage-Therapeutin. Heute wird sie oft mit Joan Baez oder Joni Mitchell wegen ihrer klaren Stimme und melodiebetonten Songs verglichen. In den vier Jahren ihrer musikalischen Karriere tourte sie international und trat mehrmals im Britischen Fernsehen auf. Ihre Lieder wurden im landesweiten BBC Radio gespielt und ihre Alben erhielten 4- und 5-Sterne Bewertungen im RnR und Maverick Magazin. Als stolze independent Künstlerin schaffte sie es mehrfach, ihre Projekte mit Hilfe ihrer Fans durch Crowdfunding zu realisieren. Saskia wohnt zurzeit in London, tourt unablässig und freut sich auf ihr Deutschland-Debut im November 2019.
Mehr Infos: http://www.saskiagm.com/
________________________
https://facebook.com/saskiagmsings/
http://www.saskiagm.com/
https://youtu.be/JKgMTUOd0XA
---------------------------------------
LUDWIG WRIGHT
Ludwig Wright wollte sein Handwerk immer auf den alten Wegen erlernen, so viele Konzerte wie möglich spielen, unterwegs und auf der Straße sein. Inspiriert von den Beatles, Ed Sheeran und Elvis Presley schreibt und tritt er auf seit 2014. Seitdem spielte er über 800 Shows. Sein Weg führte ihn zu verschiedensten Orten in Europa und für längere Zeit nach Berlin, York, Bristol und kürzlich nach London. Bekannt für seine eingängigen Songs und Mitsingparts, fesselt Ludwig sein Publikum und macht seine Auftritte zu etwas Besonderem. Feinster Folk Rock Acoustic Pop (FRAP).
__________________________
https://facebook.com/LudwigWright/
http://ludwigwright.com
https://youtu.be/RFE_gsvO278
----------
----------
SASKIA GRIFFITHS-MOORE
From Harley Street to Abbey Road, Saskia Griffiths-Moore is a young Brit-Country artist with an unusual take on life, increasingly known for her contemporary, cross genre songwriting which draws from Roots, Americana and Folk influences.
Starting out in life as a therapist, she is now often compared to a young Joan Baez and Joni Mitchell for her clear vocals and melody-led songwriting and her original songs draw on Roots, Americana and Folk influences. In the last four years as a full time, international touring artist, she has been featured six times on Sky TV's Folk Show (2017, 2018), and her both her albums have found their way onto national BBC radio, as well as garnering 4&5 star reviews in RnR and Maverick Magazine.
Awarded 3 grants from Arts Council England, as a proudly independent artist Saskia has also managed to pull on the heartstrings of her fans to crowdfund her projects on Kickstarter, and has proven to be one of the most popular, fan-funded music creators on there. She currently flaunts two guitar endorsements, and remains a resident of London, which fulfils her need for culture but not nature, and she tours years round if for no other reason, than to enjoy the scenery.
LUDWIG WRIGHT
Ludwig Wright always wanted to learn his craft in the old school way, playing as many gigs as possible, be about and out on the street. Inspired by the likes of the Beatles, Ed Sheeran and the Blues Brothers he has been writing and performing since 2014 having played over 800 shows since then. His journey has taken him to various places around Europe notably and for longer periods of time to Berlin, York, Bristol and recently to London. Known for his catchy songs and singalongs Ludwig captivates his audience and spices up his shows to something special. Folk Rock Acoustic Pop (FRAP) at it's finest.