James Harries (UK)
20.11.2019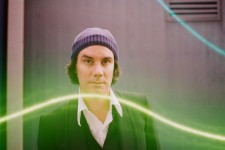 Der Sänger aus Manchester, den die Liebe bereits vor Jahren nach Prag verschlagen hat, überzeugt durch seine eingängige Stimme und die virtuose Handhabung seiner Akustikgitarre.
James Harries fand in England zur Musik, aber lebt seit den 1990er-Jahren in Prag, wenn er nicht durch Europa oder Nordamerika tourt. Der britische Sänger und Songwriter ist ein respektierter Troubadour, der auch mit Filmmusik sein Geld verdient. Kritiker vergleichen ihn mit Ryan Adams, Damien Rice oder Jeff Buckley. Das Musikmagazin "Rolling Stone" meinte gar, dass er über eine "goldene Stimme" verfügt.
Mit seinem Album 2013 erschienen Album "Voice Memories" erlangte er dank Mund-zu-Mund-Propaganda und Social Media einen höheren Bekanntheitsgrad. Das Album wurde während einer Europa-Tournee ausschließlich mit dem Handy aufgenommen. Es gilt als das erste veröffentlichte Album der Welt, das ausschließlich auf einem Handy aufgezeichnet wurde. Nachfolger dieses kostengünstig produzierten Albums wurde das Studioalbum "Until the Sky bends down". Es zog euphorische Besprechungen nach sich und wurde sowohl in Europa als auch den USA von vielen Radiostationen gespielt.
Live können seine Songs zuweilen launisch oder euphorisch sein immer sind sie aber getrieben durch die Leidenschaft in seiner stimme. In seiner charismatischen Bühnenpräsenz mit der Energie eines Kindes und dem lyrischen Ausdruck eines Poeten liebt er es das Publikum mit einzubeziehen und mit ihm amüsante Geschichten zu teilen nur um daraufhin die Augen zu schließen und musikalische Märchen zu erzählen die einen zu Tränen rühren können.
---
"....Like Ryan Adams on steroids."
(Time Out London)
" a natural born minstrel" (Uncut
magazine, UK)
"Raw, primal, exquisite" (Observer
Music Monthly)
"One of the best singer-songwriters in
Europe" (Uni Culture Magazine)
James Harries is an established and well-respected troubadour also known for his film music (his music has featured in 18 US, UK, Czech, Polish & Danish feature films; earning him a platinum record for one film soundtrack).
Critics have often compared him to Ryan Adams, Damien Rice and Jeff Buckley. Rolling Stone wrote that he has "a golden voice".
He has had three #1 singles on the Europa2 music charts. Had radio play on BBC Radio2, BBC6Radio, KCRW in the US as well as national and regional TV & radio stations across Europe.
His albums (especially "Days Like These", "Voice Memos" – a record made on his phone when on tour, & "Until The Sky Bends Down") have been critically acclaimed in both the UK and abroad with 4 and 5 star reviews, winning 2 awards, and yet even more praise has been given to his stunning live performances.
Live his songs can be at turns whimsical and euphoric but are always driven by the passion of his voice. A charismatic stage presence with the energy of a child and the lyrical expression of a poet, he enjoys engaging with an audience and sharing amusing stories only then to close his eyes to deliver musical tales that can bring tears to your eyes.
This autumn singer-songwriter James Harries will be back on tour across Europe in support of his upcoming release on Tranzistor records (release date in November 2019)
____________________
https://www.facebook.com/jamesharriesmusic/
http://jamesharriesmusic.com/
https://www.youtube.com/watch?v=Y1WwwPs4VQM(official 2019)