NEU +++ Catself (FIN) +++ Ersatzkonzert
09.11.2019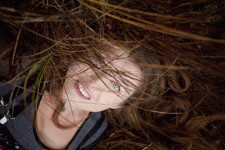 Wir freuen uns, dass Catself ganz spontan für uns Zeit hat und wir einen so schönen Ersatz für Andy Jones (Konzert wird nachgeholt) finden konnten!
---
Bei ihrem Publikum bleibt Catself vor allem durch ungewöhnliche aber fesselnde Melodien, durch schlaue Texte in Erinnerung aber auch durch die besondere Atmosphäre ihrer Konzerte, in denen Märchen auf Energie und Humor treffen. Ihre Songs bewegen sich zwischen unterschiedlichen Genres, Stimmungen und Themen. Dank der Vielfalt bespielt Catself unterschiedlichste Orte von Kunstcafés und Galerien bis hin zu Rock Clubs, wo sie oft neben Hard Rock, Punk, Metal oder Gothic Bands auftaucht.
Bevor sie sich auf die Musik konzentrierte, war Catself in verschiedenen bereichen tätig: Englischlehrerin (mit Masterabschluss), Kellnerin, Beerenpflückerin, Hundeflüstererin (nicht so erfolgreich) und Naturführerin in der Arktis. All diese Erfahrungen versorgten sie mit einer Fülle von Ideen für Songs, die andere Inspirationsquelle ist die Natur mit all ihren perfekten Kreaturen, Pflanzen und fallenden Asteroiden.
Sie ist die erste finnische Musikerin, die erfolgreich eine Crowdfundingkampagne startete und hat in den erstaunlichsten Ländern von Marokko bis in die Mongolei musiziert.
Wir freuen uns sehr, sie so kurzfristig im Tonfink gebrüßen zu dürfen!
---
Catself is remembered by her audiences for her unusual but catchy melodies, clever lyrics and the atmosphere she creates, where fairytale meets energy and humour. Her songs move both between genres and between moods and themes. Thanks to this variety in her music, Catself can be seen performing in very different venues, from art cafés and galleries to rock clubs, where she often appears next to hard rock, punk, metal and gothic bands.
Before focusing full time on music, Catself worked in various occupations: English teacher (she holds a Master's degree in English), classroom assistant, waitress, berrypicker, dog handler (a poor one) and nature guide in the Arctic. All these experiences and travels gave her a wealth of ideas for songs, but her other most important source of inspiration is the natural world with all its perfect creatures, plants and falling asteroids.
Catself started gaining an international following in late 2008, after she posted her first home studio recordings online. Soon they were played in various radio programmes, including BBC Introducing with Tom Robinson, a number of new music programmes in the Netherlands and a folk music show in Australia. In early 2009, Catself was invited to perform at a youth festival in Morocco after the organisers found her music online. During the same year, Catself was interviewed for the Swedish-speaking youth-oriented channel of Finnish National Radio, Radio X3M, and a 45-min documentary about her start in music was made for the Finnish Swedish-speaking TV channel YLE FST5.
In 2011 Catself raised € 40 000 online to record her debut album, becoming the first Finnish artist to succeed at crowdfunding. The album was recorded in Preisner Studio in Poland, by one of Poland's top sound engineers, Tadeusz Mieczkowski, with the accompaniment of Poland's iconic folk band, Saint Nicholas Orchestra. The album work is completed, however, problems of the crowdfunding company and its bankruptcy (while they still owed Catself a large part of her funds) have been delaying the album's release. Catself is seeking a record label to work with.
Catself tours regularly, mostly in the Netherlands, where she still has the most fans thanks to the album fundraising, and lately also in the UK. She has performed at a number of festivals, including The Sun Festival in Morocco, Mikołajki Folkowe in Poland, Faces Festival in Finland, The Great Escape Festival (The Alternative Escape) in Brighton, UK. The highlight of 2016 was her performance at Playtime Festival, the biggest music festival in Mongolia.
__________________________
https://www.facebook.com/CATSELFmusic
https://www.catself.com/
https://www.youtube.com/watch?v=HwhLGvQLXK8 (live)
https://www.youtube.com/watch?v=G9MtvFXEOTk
______________
Foto: Aki Roukala