Haley Johnson (USA)
15.01.2020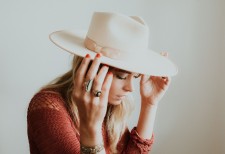 Die zauberhafte und fesselnde Singer-Songwriterin Haley Johnsen veröffentlichte am 24. Mai 2019 ihre lang erwartete LP Golden Days. Wenn man Haleys Musik hört, merk man schnell, dass sie sich musikalisch in keine Schublade stecken lässt. Ihr musikalischer Grundstein basiert auf der Inspiration von Americana und Popmusik, wie zum Beispiel Brandi Carlile und Heart.
In Haleys meistgestreamten Song "Weekend", der in Kollaboration mit Allen Stone entstanden ist, wird die Vielfältigkeit und Tiefe dieser Genre-trotzenden Künstlerin offensichtlich. Mit nachdenklichen Texten, die die Komik und den Kummer des menschlichen Befindens spiegeln, ist es keine Überraschung, dass man Haleys Konzerte mit einem Gefühl von emotionaler Katharsis und purer Lebensfreude verlässt. 2017-2018 eröffnete Haley als Vorband für Sawyer Fredericks und tourte als Support für The Wind and The Wave durch die gesamte USA. Ihr erste Solo-Tour durch Europa fand im Winter 2019 statt und gleich danach ging es in den Staaten weiter, diesmal als Vorband für die drei Schwestern namens Joseph. Neben ihren eigenen Projekten tourt sie derzeit als Bass-Spielerin und Backup-Sängerin mit dem elektronischen Künstler und Produzenten Big Wild. Momentan bereitet sie auch ihre zweite Europatour vor, um ihre LP Golden Days und weitere Neuerscheinungen für das Frühjahr 2020 zu promoten.
-------
The enchanting and compelling singer-songwriter Haley Johnsen self-released her much anticipated debut LP Golden Days on May 24th, 2019. If there's anything you should know about Haley, it's that she refuses to fit into just one box. Her musical bedrock has been inspired by Americana and pop acts such as Brandi Carile, Heart, and Grace Potter, and her collaboration with Allen Stone on her most streamed song "Weekend" exemplifies this genre bender's variety and depth. With self-reflective songwriting about the humors and heartaches of the human condition, it's not abnormal to leave a Haley Johnsen show with emotional catharsis and a dose of pure joy.
During 2017 and 2018, Haley toured as an opener for Sawyer Fredericks and as lead support for The Wind and The Wave all across the United States. Haley completed her first headline tour of Europe in January and February of 2019 as well as jumping on as direct support for the band Joseph across the USA through April & May of 2019. Aside from her own project, she currently tours with with electronic artist and producer Big Wild as his bass player and backup vocalist. Haley is in the midst of planning her second headlining tour across Europe to support Golden Days and more upcoming releases in Jan/Feb 2020.
"I was lucky enough to witness an epic album release show that made me feel like I was watching history in the making. With Haley's amazing vocals, outstanding songs, and her tremendous band backing her, I was blown away. She is definitely an artist on the must watch list and one to keep an eye on as her talent is bound to make her a national success!"
Roderick Allen, Rose City Review-Music Edition
"Dynamically powerful vocals matched with heartfelt songwriting are the hallmarks of Haley Johnsen's craft. She seamlessly blends vintage vibes and modern pop sensibility into her music and she is one of my most requested artists."
Luke Neill, Track 11 Music
_______________________________
https://www.facebook.com/haleyjohnsenmus/
http://www.haleyjohnsenmusic.com/
https://www.youtube.com/watch?v=EZ-indpvnyg
---
Foto: Lauren Simpson