Lesley Kernochan (USA)
25.02.2020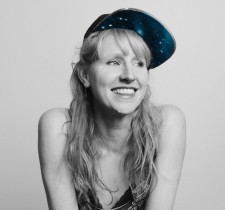 Das neue Album der US Songwriterin fängt nicht etwa da an, wo A Calm Sun, ihr hochgelobtes 2017er Album aufhört, sondern nimmt ganz bewusst den einmal gesponnen Faden auf und führt ihn weiter. Weiterhin sind Country und Folk elementare Bestandteile ihres Sounds, doch gemäß der kosmopolitischen Aussage die das inhaltliche Gerüst ausmachen, halten nun auch auch World und Jazz Klänge Einzug in ihre Klangwelten.
So universell bisweilen traditionell die Musik auch ist, so zeitgemäß sind die Texte. Gemäß ihres Naturells zeichnet Lesley keineswegs die Welt in grauen Farben, sondern kleidet ihre Hoffnungen, Wünsche und Gedanken in poetische und vor allem positive Lyrics.
---
I had two distinct moments as a child when I suddenly noticed the pure bliss I was in because of music. (Thank you Ella Fitzgerald and Paul Simon.) This sparked the passion in me to pass this magnificent joy on. Then after a particularly potent cup of coffee one day in 2004 I daydreamed that if I had two weeks to live, I would create an album with that time. Little did I know that this would become the main compass of my life for decades.
Five albums later, this magnificent journey with music continues. For more information on all of these records, please head to www.lesleykernochan.com.
In addition to playing guitar and piano, I have an eclectic background as a saxophonist, contemporary classical composer, operatically trained coloratura, and musical saw player. I have toured with many wonderful bands including the March Fourth Marching Band and Vagabond Opera. Recently I have enjoyed playing lots of house concerts and some festivals, as they are deeply fulfilling on many levels. Up next, offering and touring the fifth album, "The Hummingbird Revolution"! It is an homage to nature, infused with many flavors of gratitude.
__________________________
https://www.facebook.com/lesleykernochanmusic/
https://www.lesleykernochan.com/
https://www.youtube.com/watch?v=sBgBU6P8Xm0
---
Foto: Shervin Laine