ENTFÄLLT +++ James Walker (UK)
18.03.2020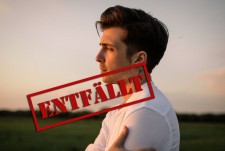 Leider muss dieses Konzert entfallen - wir suchen einen Ersatztermin!
______________________
Der warmherzige Songwriter James Walker begann seine Reise in der Musikindustrie als Session Pianist auf Tour mit Adam Barnes, Chris Ayer und Matt Simons in den frühen 2010ern. Er verfiel schnell und gründlich der unkonventionellen Art auf der Straße zu leben, lebenslange Erinnerungen mit völlig fremden zu erleben und die kleinen Ecken der Welt mit all ihren dort lebenden Menschen zu entdecken.
Mit einem Mal wurde ihm all dies jedoch entrissen, als er mit 21 plötzlich schwer erkrankte und am Herzen operiert wurde.
In den folgenden Jahren widmete James seine Aufmerksamkeit der Aufnahme seines Debutalbums English Bones, einer grüblerischen Indie-Folk Platte, die herausragende Kritiken in diversen Magazinen und einen Platz in größeren Playlists erhielt und international im Radio gespielt wurde.
Zurzeit verzeichnet James Walker bereits über 6 Mio. Streams.
Nach der Veröffentlichung von English Bones hatte James das Glück, durch Europa und die USA touren zu können, eine Zeit, die ihm die Möglichkeit gab, seinen kreativen Prozess zu reflektieren und 2019 mit der Arbeit an seinem zweiten Album zu arbeiten.
Trefft den von Kritiken gepriesenen Alternativ Pop Künstler James Walker auf seiner einzigen Solo-Tour 2020. Nach seinem erfolgreichen Debutalbum, English Bones, arbeitete er mit Richard Walters und Judy Blank zusammen. Schnappt ihn Euch also auf den kleinen Bühnen solange es möglich ist.
---
"atemberaubend liebenswert" - The Huffington Post
"Einer der seltenen Typen von Songwritern… intelligent und beobachtend, dabei klangvoll und mitreißend." - Overblown Magazine
---
Join critically acclaimed alt-pop James Walker as he performs his only run of solo shows in 2020.
Following the success of his debut album, English Bones, James has been writing with Richard Walters (Declan J Donovan, Alison Moyet) and Judy Blank. Catch him in these small venues while you can.
-----------
Listen here:
https://linktr.ee/jameswalkerofficial
Social Media:
https://instagram.com/jameswalkerofficial
https://facebook.com/jameswalkermusic
https://twitter.com/jwalkersounds
https://www.youtube.com/watch?v=5PrUx44sczE
-----------
"Stunningly lovely" - The Huffington Post
"One of the rarest types of songwriters… intelligent and introspective, yet melodious and infectious." - Overblown Magazine
Tenderhearted songwriter James Walker started his journey in the music industry as a session pianist, touring with Adam Barnes, Chris Ayer, and Matt Simons in the early 2010s. He fell hard and fast for the bohemian way of living on the road, of making lifelong memories with perfect strangers, of experiencing the little corners of the world and the people that live there.
James nearly had this all taken away from him, when he suddenly fell ill and needed major open heart surgery in 2013 at the age of 21.
Over the years that followed, James was to record his debut body of work English Bones. It was a brooding indie-folk record produced by Sam Winfield (Amber Run, BMTH), it received outstanding reviews in The Huffington Post, Overblown Magazine, Ear To the Ground and Punktastic, was selected by Spotify and Digster to appear in their Easy and Lazy Sunday Morning playlists, as well as international radio play.
To date, James has received over 6,000,000 cross-platform streams.
After the launch of English Bones, James was fortunate enough to tour Europe and the states.
These times on the road gave James the opportunity to reflect on his creative process, and in 2019 he started recording his sophomore record.
Co-written with the critically acclaimed songwriter Richard Walters (Declan J Donovan, 3lau), Judy Blank and Youri Lentjes, and once again produced by Sam Winfield, it is set to be released via Kobalt/AWAL (Lauv, Bruno Major), Maximal Music (Candi Staton), and Music Table South Korea (Tom Misch).
2020 is set to be a big year for the fast rising artist. Be sure to catch him in these little venues while you can.