+++neu+++ FARALAE (MEX)++++neu+++
15.10.2013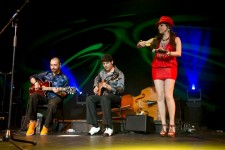 "JAZZ ESTRAFALARIO" - FARALAE is the first and unique one band that plays "jazz estrafalario". (May be the closer translation is "Eccentric Jazz"). Their musicians are all from Mexico. They create a strange and brand new blend of music, that starts on jazz manouche and is mixed with bossa nova, blues, funk and country. Faralae have their own compositions in english and spanish, but also play jazz standards in an "estrafalario" (eccentric) style.
The name of the band "FARALAE" is a word in antique spanish that means a very showy and exaggerated adornment, as much that can be considered of bad taste.
Faralae has a CD called "Cadáver Exquisito" (Exquisite Corpse, also known as exquisite cadaver, from the original french term "cadavre exquis")
Faralae have had the opportunity of share their work through some local media like Foro TV, Canal 11, TV Educativa, TV Mexiquense, Horizonte Radio, Radio Ibero, Radio Fórmula, Radio UNAM, Radio Capital, La Jornada, Tiempo Libre, El Universal, Revista Chilango,Esmas.com, Código DF, among others.
FARALAE has appeared in forums like Lunario del Auditorio Nacional, Teatro Metropolitan, Teatro de la Ciudad, Puebla, Zinco Jazz Club, El Péndulo, Teatro Hipódromo Condesa, Feria del Barro 2011, Palacio de Autonomía (UNAM), Festival de Jazz de la Escuela Superior de Música, Festival Internacional Quimera, Antiguo Palacio del Arzobispado, and many jazz clubs in Mexico City, and inside the country.