Mute Swimmer (UK)
27.10.2020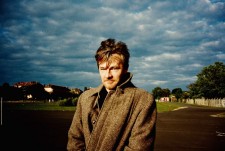 Mute Swimmer ist das Musikprojekt des britischen Künstlers Guy Dale. Nach unzähligen Veröffentlichungen, Zusammenarbeiten und Formationen hat Dale seinen Fokus auf lyrische Songs gelegt; eine interessante Stilmischung aus Folk, Post Rock, New Wave und Spoken Word.
Er beschreibt Mute Swimmer als eine Art Sabotageakt. Er stellt ständig steigende Erwartungen an den "Singer Songwriter", indem er ihn mit unterschiedlichen musikalischen Kontexten konfrontiert und selbst den Prozess des Schreibens und den der Aufführung als Thema betrachtet. So komponiert er spontan Lieder in Echtzeit vor dem Publikum. Es sind eigenwillige und überzeugende Live Auftritte voller Romantik, Ironie und Melancholie.
---
Guy Dale is an artist, performer and lecturer utilising a diverse range of media, skills and approaches including painting, drawing, photography, installation, sound, performance and film. He has exhibited widely on an international stage including shows in London, Berlin, Lisbon, New York, Madrid and Copenhagen. He was recipient of a prestigious fellowship bursary from 1998 to 2001 culminating in his receipt of a PhD in Fine Art Practice in 2002.
With over fifteen years experience as a lecturer and teacher he has been responsible for the conception, delivery and assessment of core modules in fine arts, media arts and photography - these key roles include historical and critical lectures and talks across historical periods and to groups with different levels of cultural understanding and knowledge. He has held posts at DeMontfort and Northbrook Universities and been a visiting lecturer at Reading and Koblenz University.

Guy creates music under the name Mute Swimmer and Dala (and previously under the name Funès and G.Dale). He has played alongside Jaye Jayle, Carla Bozulich, Richard Youngs, David Thomas Broughton, Alistair Roberts, Emperor X and Withered Hand collaborating on music projects with Own Road, The Diamond Family Archive, Preslav Literary School, My Sister Grenadine, Becky Becky Parenthesis and Moongazing Hare amongst many others.
His music has been released music through Truco Espárrago, Dendron, Woodland and Bleeding Heart Recordings.� He lives and works in Berlin.
_____________________________
https://www.facebook.com/muteswimmer//
http://www.guydale.com/
https://www.youtube.com/watch?v=CQYioP1V0cQ
___________
Foto: Michelle Ettlin