Gráinne Hunt (IRL)
03.02.2023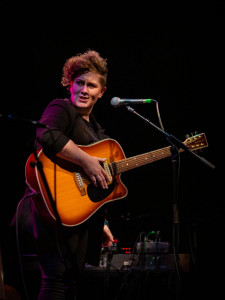 Gráinne Hunt ist eine moderne Folk-Sängerin und Songwriterin aus Irland, der die Musik im Blut liegt. Dank ihrer perfekt eingesetzten, fesselnden Stimme und brillant gemachten, einfühlsamen Liedern wurde sie schon vielfach mit Gesangsikonen wie Tracy Chapman oder Nathalie Merchant verglichen.
Wer unverkennbar irisch geprägten Folk mit Tiefgang und gleichzeitiger Leichtigkeit liebt, wird sich in Gráinnes Musik verlieben, die in einem Moment unglaublich melancholisch anmutet und im nächsten vor Optimismus strotzt – manchmal sogar beides zur gleichen Zeit. Die sympathische Irin fasziniert das Publikum - allein durch sanftes Gitarrenspiel unterstützt - mit ihrer zauberhaften Stimme und ihrer Authentizität und noch lange nach ihrem Verschwinden kann man einen kleinen Teil von Gráinnes Funkeln im Raum spüren. Ein wirklich intensives Musikerlebnis.
---
Gráinne is a contemporary nu-folk singer/songwriter with a rich background in performance and songwriting. She has shared stages with Glen Hansard and U2, and has opened for Gladys Knight, Eagle Eye Cherry and The Bay City Rollers. Gráinne has toured throughout Ireland, UK and ​Europe.
Her voice is incredibly powerful - there's a husky element but also a vulnerability, which is present too in her lyrics. This combination has gained her a reputation as one of Ireland's most outstanding female vocalists and songwriters. Some have compared her to Tracy Chapman, Natalie Merchant and Dolores O'Riardan.
'A natural performer, Grainne Hunt commands an astounding voice that will melt your heart. No crowd can resist.'
Declan O'Rourke

_______________________________
https://www.facebook.com/GrainneHuntMusic
https://www.grainnehunt.com/
https://www.youtube.com/watch?v=i5ZNlq1ND-g
https://www.youtube.com/watch?v=NotiBJLltOo