Darragh O'Dea (IRL)
14.03.2023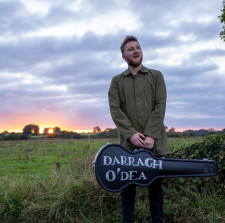 Darragh O'Dea ist ein irischer Alt-Folk-Songwriter und Geschichtenerzähler, der bereits mit Christy Moore, Kevin Morby und den Waterboys verglichen wurde. Er tourt zum ersten Mal durch Deutschland, um die Veröffentlichung seines Debüt-Soloalbums "Tilly And The Postmaster" zu feiern, und um neue Songs aus seinem kommenden zweiten Album vorzustellen. Darraghs fesselnde und mitreißende Live-Shows sollte man sich nicht entgehen lassen.
"Nicht viel Musik hat die Entschlossenheit und Tiefe, die Darragh O'Dea auf Tilly and the Postmaster zeigt. Dies ist ein Album für jeden, der die Macht der Musik zu schätzen weiß - zu entlarven, zu ertragen und letztendlich Hoffnung zu geben" - Folk Radio UK
"Ein brillanter Songschreiber, der Geschichten erzählt" - Hot Press Music Magazine
"Eine songschreiberische Reife und lyrische Sensibilität, die ihn von vielen seiner Zeitgenossen abhebt" - Connacht Tribune
---
Darragh O'Dea is an Irish Alt-Folk songwriter and storyteller who has drawn comparisons to Christy Moore, Kevin Morby and The Waterboys. He is touring Germany for the first time to celebrate the release of his debut solo album, "Tilly & The Postmaster" and to share new songs from his forthcoming album. Darragh's captivating and engaging live shows are not to be missed.
"Not a lot of music holds the determination and depth Darragh O'Dea shows on Tilly and the Postmaster. This is a disc for anyone who appreciates the power of music – to expose, to endure and in the end, to provide hope" - Folk Radio UK
"A brilliant storytelling songsmith" - Hot Press Music Magazine
"A song-writing maturity and lyrical sensitivity that sets him apart from many of his contemporaries" - Connacht Tribune
_________________________________
https://www.facebook.com/darraghodeamusic
https://www.darraghodeamusic.com/
https://www.youtube.com/watch?v=MOqwHOPexqY
https://www.youtube.com/watch?v=H1vvBYUJf6I