Anamesa (NL)
01.04.2023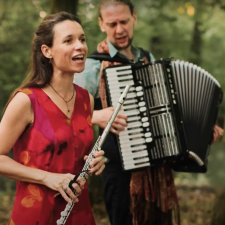 Anamesa fängt den mediterranen Geist ein, mit treibenden Melodien und zarten Harmonien. Mit traditionellen Instrumenten werden die melancholischen Balladen des Balkans und die lebhaften Tänze Italiens und Lateinamerikas ganz natürlich zum Leben erweckt. Gemeinsam laden sie dazu ein, über Berge zu wandern und stürmische Meere zu durchqueren, um am Ende einen Abend voller Freude zu erleben, der vielleicht so lange dauert, bis die Nacht auch den letzten Zuhörer in den Schlaf wiegt.
Leonieke Toering, Sängerin, Musikerin und Dichterin, wechselt traditionelle Musik mit ihren eigenen Werken ab. Das Programm spiegelt ihre Liebe zu Italien, zur Poesie und zu fernen Orten wider. Mit ihrer warmen, ausdrucksstarken Stimme destilliert sie das Wunderbare aus dem Alltäglichen.
Der Akkordeonspieler Jan-Roelof Bathoorn singt auf Griechisch, Türkisch, Jiddisch und in slawischen Sprachen. Begleitet von aufmunternden Akkordeon-Riffs spielt er traditionelle, schwermütige Musik, zu der man trinken, weinen und tanzen kann.
---
Anamesa catches the mediterranean spirit, with driving melodies and delicate harmonies. Using traditional instruments, the melancholic ballads of the Balkans and the lively dances of Italy and Latin-America will naturally come to life.

Leonieke Toering, singer, musician, and poet, alternates traditional music with her own work. The program reflects her love for Italy, poetry, and far away places. With her warm, expressive voice, she distills wonder from the everyday.

Accordion player Jan-Roelof Bathoorn sings in Greek, Turkish, Yiddish, and the Slavic languages. Accompanied by uplifting accordion riffs, he plays traditional mournful music you can drink, cry and dance to.

Together, they invite you to wander over mountains and cross stormy seas, to end up at an evening full of joy, that might last until the night soothes the last listeners to sleep.
________________________
https://www.facebook.com/jrbathoorn
https://www.jrbathoorn.com/en/
http://www.leonieketoering.nl/
https://www.youtube.com/watch?v=dr0w4bMAomM
https://www.youtube.com/watch?v=RXEOEMNBqhM
https://www.youtube.com/watch?v=Vd7-whf1tc0