Jillian Lake (CAN)
23.05.2023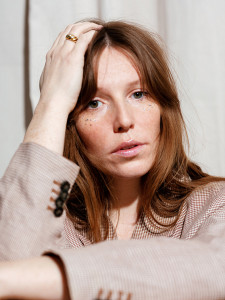 Die aus Vancouver stammende Indie-Künstlerin Jillian Lake mischt samtene Klänge und große Gefühle, um Sie in ihre Welt der süßen Trauer zu entführen, und zwar auf eine Art und Weise, die Sie dazu bringen wird, Ihr gebrochenes Herz zum Tanzen zu bringen. Gefühle, die sie auf Papier und in Musik, Bewegungen und Bilder überträgt - ihre komplexe Klangcollage mit stimmungsvollen Folk-Untertönen lässt sich mit Indie-Powerfrauen wie Feist, Maggie Rogers und Phoebe Bridgers vergleichen.
Nach der Veröffentlichung ihres Debütalbums "Younger Then", das stimmungsvollen Folk mit cineastischer Instrumentierung verbindet, gibt die kanadische Indie-Künstlerin Jillian Lake nun ihr Europadebüt. Sie schüttet ihr Herz in ihre Songs und strahlt eine Emotion aus, die das Publikum in ihren Bann zieht. Nachdem sie mit ihrem ersten Album durch Kanada getourt war, zog sich Jillian während der Quarantäne zurück, um eine selbst produzierte EP mit Demos mit dem Titel "Attics" zu erstellen, die roh und unvollkommen blieb, so wie sie sich selbst sieht. Sie erforschte neue Sounds und Instrumente, die sie als neue Erfahrung auf die Bühne bringen kann. Jillian wird ihre Hit-Singles von "Younger Then", darunter "Walk All Over You", "XVII" und "Oliver", sowie ihr experimentelleres "Attics" präsentieren und dabei auch neues, unveröffentlichtes Material einbinden. Jillian, die den größten Teil des Sommers auf Tournee und im Studio verbracht hat, hat eine Menge neuer und transzendenter Veröffentlichungen, die bald erscheinen werden, da sie sich in ihrer Metamorphose als Künstlerin befindet.
---
Vancouver indie artist, Jillian Lake, mixes velvet sounds and big feelings to transport you into her world of sweet sorrow in a way that will make you want to take your broken heart out dancing. Feelings transposed onto paper and into music, movements, and visuals - her complex collage of sound with moody folk undertones can be compared to indie female powerhouses like Feist, Maggie Rogers, and Phoebe Bridgers.
After releasing her debut record "Younger Then" that combines moody folk with cinematic instrumentation, Canadian indie artist Jillian Lake is making her European debut. Pouring her heart out into her songs, she exudes an emotion that draws the audience in for more. After touring her first record across Canada, Jillian holed away during quarantine to create a selfmade EP of demos entitled "Attics" that remained raw and imperfect, just as she sees herself. She explored new sounds and instruments that she can bring to the stage as a new experience. Jillian will be showcasing her hit singles from "Younger Then" including "Walk All Over You" "XVII" and "Oliver" as well as her more experimental "Attics" while also tying in some new unreleased material. Spending most of the summer touring and in the studio, Jillian has a lot of new and transcendent releases coming soon, as she is in her metamorphosis as an artist.
___________________
https://www.facebook.com/jillianlakemusic
https://www.jillianlake.com/
https://www.youtube.com/watch?v=OsAxrz4Qkmk (younger then official)
https://www.youtube.com/watch?v=YDM71g0wioU (hideaway live)