Kleines OPEN AIR in der Gr. Burgstraße: John Muirhead (CAN)
23.06.2023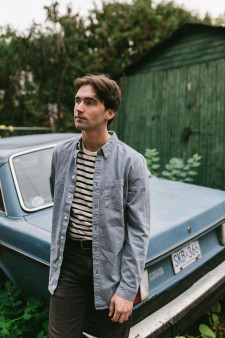 John Muirhead ist ein kanadischer Troubadour, ein Geschichtenerzähler am Lagerfeuer und ein großherziger Folk-Rocker mit Sitz in Toronto, Ontario. Mit seinen preisgekrönten Liedern, die von mit den Fingern gegriffenen Folk-Bekenntnissen bis hin zu brüllenden Singalongs mit voller Band reichen, hat John Muirhead ein Publikum auf der ganzen Welt berührt, mit einer Community von über 50.000 Fans auf seinen Social-Media-Kanälen und Hunderten von Shows in ganz Kanada und Europa.
John wurde für den Canadian Folk Music Award nominiert (Young Performer of the Year, 2017), für den Ontario Folk Music Award (Album of the Year, 2022) und stand auf den Bühnen des Winnipeg Folk Festivals, des Sawdust City Music Festivals und des Philadelphia Folk Festivals. John hat auch viele der besten Songwriter Kanadas direkt unterstützt, darunter Whitehorse, Joel Plaskett Emergency und Craig Cardiff.
John veröffentlichte sein Debütalbum Traveller im November 2021, das mittlerweile über eine halbe Million Streams auf Spotify verzeichnet.
Ob auf Festivalbühnen oder in Wohnzimmern, in Hinterhöfen oder in fahrenden Zügen - Johns unvergessliche Performance hat ihn zu einem aufstrebenden kanadischen Künstler gemacht, den man unbedingt gesehen haben muss.
---
John Muirhead is a Canadian troubadour, a campfire storyteller, and a big-hearted folk-rocker based in Toronto, Ontario. From fingerpicked folk confessionals to roaring full band singalongs, John's award-winning songs have touched audiences around the world, with a community of over 50,000 supporters across his social media channels and hundreds of shows across Canada and Europe.
John has earned a Canadian Folk Music Award nomination (Young Performer of the Year, 2017), an Ontario Folk Music Award nomination (Album of the Year, 2022), and has graced the stages of Winnipeg Folk Festival, Sawdust City Music Festival, and Philadelphia Folk Festival. John has also provided direct support for many of Canada's best songwriters, including Whitehorse, Joel Plaskett Emergency, and Craig Cardiff.
John released his debut full-length album Traveller in November 2021, which now sits at over half a million streams on Spotify.
On festival stages or in living rooms, in backyards or on moving trains, John's unforgettable performance has solidified him as a must-see emerging Canadian performer.
_____________________________________
https://www.facebook.com/johnmuirheadmusic
https://www.johnpmuirhead.com/
https://www.youtube.com/watch?v=4jgoM6SzNg0 (official lyric video)
https://www.youtube.com/watch?v=LlYtdbxKFRE (live acoustic)
https://www.youtube.com/watch?v=llbIRljTeU4 (live off the floor)