Mountain Son (USA)
21.09.2023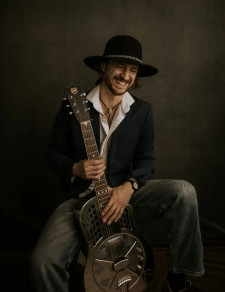 Mountain Son ist ein Multiinstrumentalist, Songwriter und Produzent aus Eugene, Oregon. Mountain Son schöpft aus den Klängen einer Resonatorgitarre und der tiefen Quelle amerikanischer Roots-Musik, aus zwei Jahrzehnten Erfahrung im Songwriting und in der Performance. Inspiriert von Folk-, Country- und Blues-Ikonen wie Willie Nelson, Elizabeth Cotton, Mississippi John Hurt, Bob Dylan, Kate Wolf, Robert Johnson, Townes Van Zandt, Blaze Foley, Charlie Parr und Gillian Welch, kombiniert Mountain Son gekonntes Fingerpicking und Slide-Gitarrenarbeit mit Songwriting-Know-how zu einem zeitlosen und originellen Sound.
Mountain Son tritt auch als Sänger, Banjospieler, Gitarrist und Produzent/Techniker für die progressive Bluegrass-Band The Muddy Souls aus Eugene auf.
Mountain Son begann seine musikalische Ausbildung im Alter von neun Jahren auf der Bratsche und verbrachte sechs Jahre in Jugendorchestern und Sinfonieorchestern in Vermont. Nachdem ein gebrochener Arm ihn zu einer Pause von der Bratsche zwang, fand er die Gitarre seiner Mutter im Keller, die dort Staub ansetzte, und hat nie zurückgeblickt.
Seine Gitarre und sein Songwriting haben ihn mehr als 2 Jahrzehnte lang auf Reisen, bei Abenteuern, als Straßenmusiker und bei Auftritten begleitet. In den letzten vier Jahren konzentrierte er sich auf den Aufbau seiner unabhängigen Musikkarriere, indem er ständig schrieb, aufnahm und auftrat und so ein sehr arbeitsreiches und lohnendes musikalisches Leben im schönen pazifischen Nordwesten führte. In den letzten 2 Jahren hat er drei Alben aufgenommen und produziert, und viele weitere sind in Planung. Allein im Jahr 2022 spielte er fast 100 Konzerte mit seinem Soloprojekt und seiner Bluegrass-Band The Muddy Souls.
"Songwriting und der Prozess des Einfangens von Songs - aus dem Äther, aus dem Inneren oder wo auch immer sie herkommen - und das Finden der perfekten Kombination von Akkorden, Melodie und Text ist der Treibstoff und die Freude meines Lebens", sagt Mountain Son. "Songwriting ist für mich eine kreative Notwendigkeit; je mehr ich es tue, desto inspirierter werde ich. Das Einzige, was ich noch mehr genieße als das Songwriting, ist das Aufführen dieser Songs auf Tourneen und bei Konzerten."
Mit zwei selbst aufgenommenen und produzierten Soloalben hat Mountain Son nach eigenen Angaben genug eigenes Material, um 2022 zwei weitere Alben aufzunehmen. "Es gibt keinen Mangel an Songs! Sie fließen weiter wie Wasser; es scheint, dass ich nach all den Jahren endlich den Dreh raus habe und nur noch den Wasserhahn aufdrehen muss. Das einzige Problem ist, dass ich sie nicht schnell genug aufnehmen kann! Ein gutes Problem für einen Songwriter, denke ich.
Sein neuestes Album Hard Workin' Man enthält den Titelsong, den er für seinen Vater geschrieben hat, der ihm den Wert von harter Arbeit und Ausdauer in allen Bereichen des Lebens vermittelt hat. "Ich habe den Song für meinen Vater geschrieben, als ich beim Joggen war und er mir irgendwie durch den Kopf ging und ich sagte: 'Verdammt, ich drehe mich besser um und gehe nach Hause, um ihn aufzuschreiben, bevor ich ihn vergesse!'"
Mountain Son wuchs in Vermont auf über 700 Hektar Land auf, wo seine Eltern Hausmeister waren und es immer etwas zu tun gab. "Wir hatten nie viel Geld, aber meine Eltern haben beide sehr hart gearbeitet, und mein Bruder und ich hatten das Glück, an einem so schönen Ort mit so guten Vorbildern aufzuwachsen. Ich weiß, dass ihre Beispiele für harte Arbeit ein Teil des Grundes sind, warum ich heute erfolgreich bin und warum ich den Mut und die Vision habe, meine Träume zu verfolgen."
Ein weiterer Song von Hard Workin' Man mit dem Titel "Empty Pocket Blues" wurde von der Freundin Julia Romanelli geschrieben. "Julia kam eines Tages vorbei, um in meinem kleinen Hausstudio einen Song aufzunehmen, und als ich ihn hörte, gefiel er mir sofort und ich beschloss, ihn auf das neue Album zu nehmen. Es ist ein großartiger Song und klingt für mich wirklich so, als hätte ihn Elisabeth Cotton vor 50 oder 60 Jahren schreiben können."
Mountain Son spielt auch Banjo und ist einer der Songwriter der in Oregon ansässigen progressiven Bluegrass-Band The Muddy Souls, einer der herausragenden Songwriter-Kräfte des pazifischen Nordwestens. In einem Projekt, das mit mehr als 60 Auftritten im Jahr 2022 immer weiter wächst, war Mountain Son der Produzent ihres letzten Albums The Raven.
---
Mountain Son is a multi-instrumentalist, songwriter, and producer planning his first European tour. Based in Eugene, Oregon and fueled by the tones of a resonator guitar and the deep well of American Roots music, he draws two decades of songwriting and performing experience. With inspiration from folk, country, and blues icons such as Willie Nelson, Elizabeth Cotton, Mississippi John Hurt, Bob Dylan, Kate Wolf, Robert Johnson, Townes Van Zandt, Blaze Foley, Charlie Parr, and Gillian Welch, Mountain Son combines skillful fingerpicking and slide guitar work with songwriting expertise to create a timeless and original sound.
Mountain Son also performs as singer, banjo player, guitarist, and producer/engineer for the Eugene based progressive bluegrass band The Muddy Souls.

Mountain Son's musical training began on the viola at age nine, with 6 years spent in youth orchestras and symphonies in Vermont. After a broken arm forced a hiatus from the viola he found his mother's guitar in the basement collecting dust and has never looked back.
His guitar and songwriting have been with him through more than 2 decades of traveling, adventures, busking, and gigs. For the past 4 years, he has focused on building his independent music career by writing, recording, and performing constantly, creating a very busy and rewarding musical life in the beautiful Pacific Northwest. He has recorded and produced three albums in the past 2 years with many more on the way. In 2022 alone he played close to 100 concerts between his solo project and his bluegrass band, The Muddy Souls.
"Songwriting and the process of capturing songs–from the ethers and from within or wherever they come from–and finding that perfect combination of chords, melody, and lyrics is the fuel and joy of my life," says Mountain Son. "Songwriting is a creative necessity for me; the more I do it the more inspired I become. The only thing I enjoy more than songwriting is performing those songs while touring and playing gigs."
With two self recorded and produced solo albums currently finished, Mountain Son says that he has enough original material to record two more in 2022. "There is no shortage of songs! They continue to flow like water; it seems that after all these years I'm finally getting the hang of it and all I have to do is turn on the tap. The only problem is that I can't record them fast enough! A good problem for a songwriter to have I guess"
His latest release Hard Workin' Man includes the title track written for his dad, who taught the value of hard work and persistence in all areas of life. "I wrote that one for my dad while I was out jogging and the song kind of flashed through my head and I said, 'Damn, I better turn around and go home to write it down before I forget!'"
Mountain Son grew up in Vermont on 700+ acres where his parents were caretakers and there was always work to be done. "We never had much money but both of my parents were extremely hard working and my brother and I were fortunate to grow up in such a beautiful place with such good role models. I know their examples of hard work are part of the reason I am successful today and why I have the courage and vision to follow my dreams."
Another song from Hard Workin' Man called, "Empty Pocket Blues" was written by friend Julia Romanelli. "Julia came over one day to record a song at my tiny house studio and as soon as I heard it I just loved it and decided to put it on the latest album. It's a great song and really sounds to me like it could have been written by Elisabeth Cotton 50 or 60 years ago."
Mountain Son also plays banjo and is one of the songwriters in the Oregon based progressive bluegrass band, The Muddy Souls, one of the Pacific Northwest's preeminent songwriting forces. In a project that keeps growing with more than 60 performances logged in 2022, Mountain Son was the producer of their latest album, The Raven.

__________________________________
https://www.facebook.com/mountainsonmusic
https://www.mountainsonmusic.com/
https://www.youtube.com/watch?v=qwpjokCDbXQ