The Ocelots (IRL)
11.12.2023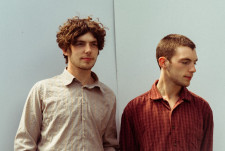 The Ocelots" ist ein Projekt der Zwillinge Ashley und Brandon Watson. Ursprünglich aus Wexford, Irland, stammend, leben sie jetzt in Leipzig, Deutschland. The Ocelots haben sich einen Ruf für dynamische, intime Konzerte mit viel Humor und Geschichtenerzählen erarbeitet. Ihr Debütalbum "Started to Wonder" wurde im März 2020 veröffentlicht und enthält Songs mit viel Doppelharmonie und alternativem Folk, die aus dem Tourneedelirium und der Überbeanspruchung durch Taschenbuchromane entstanden sind.
Im Jahr 2023 werden sie ihre neue EP "Addlepated" veröffentlichen, zusammen mit einer ausgedehnten Tournee durch Großbritannien und Irland.
The Ocelots waren früher eine Schulband, die in der Mittagspause Bluesstandards und Alternative Rock spielte. Während dieser Zeit begannen Brandon und Ashley, ihre eigene Musik zu schreiben und orientierten sich dabei an der Folk-Sensibilität von Bob Dylan und Simon & Garfunkel.
Sie beendeten die Schule und reisten mit dem Rucksack durch Europa, spielten Shows und traten auf der Straße auf, wo immer sie konnten. 2017 veröffentlichten sie ihre erste EP "Till We Get There", die 1,7 Millionen Online-Streams erreichte. In den nächsten drei Jahren wurde aus dem Backpacking ein ausgiebiges Touren mit Headliner-Shows und Festivals in ganz Europa und Australien. Sie standen mit Künstlern wie Jack Johnson, Glen Hansard, Hudson Taylor und Kim Churchill auf der Bühne, neben vielen anderen.
---
'The Ocelots' is a project created by twins Ashley & Brandon Watson. Originally based in Wexford, Ireland, they now reside in Leipzig, Germany.
The Ocelots were formerly a school band, playing blues standards and alternative rock during lunchtime. During this time, Brandon & Ashley started writing their own music, pursuing the direction of Bob Dylan and Simon & Garfunkel's folk sensibilities.
They finished school and backpacked around Europe, playing shows and street-performing wherever they could. They released their first EP in 2017 'Till We Get There' which hit 1.7 million online streams. In the next three years, backpacking became extensive touring, headlining shows and festivals all over Europe and Australia. They joined stages with artists such as Jack Johnson, Glen Hansard, Hudson Taylor and Kim Churchill, amongst many others.
The Ocelots have built a reputation for dynamic, intimate concerts, filled with humour and storytelling. Their debut album 'Started to Wonder' was released in March 2020, containing songs rich in twin harmony and alternative folk, carved from touring delirium and overexposure to paperback fiction. In 2023, they will release their upcoming EP "Addlepated", along with an extensive tour of the UK and Ireland.
_____________________________________
https://www.facebook.com/TheOcelotsMusic
https://www.theocelots.com/
https://www.youtube.com/watch?v=m_EC2PT1PZU