Matt Bednarsky (USA)
09.06.2017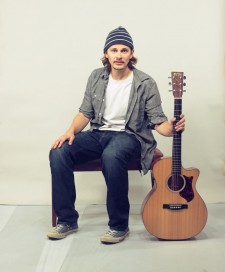 Leute neigen dazu, Menschen in Schubladen zu stecken. Genres und Vergleiche unter Künstlern sind die Eckpunkte, anhand derer die Öffentlichkeit einen Künstler einordnet. Das geht bei Matt Bednarsky nicht wirklich.
...ok.Gut. Wenn ihr es wirklich braucht… Sein einzigartiger Stil zieht Einflüsse aus verschiedenen Genres, darunter Pop/Rock, Folk, Jazz und Blues. Denkt an etwas zwischen James Taylor und John Mayer gekreuzt mit Ryan Adams und Michael Bublé. Aber man wäre besser dran, wenn man die letzten beide Sätze einfach aus dem Fenster wirft und ihn sich selbst anhört.
Als Sohn eines Jazz Gitarristen und Musiklehrers und einer Mutter mit klassischer Herkunft wuchs matt in Shelton , CT quasi eingehüllt in Musik auf. Mit 4 Jahren begann er, Geige zu spielen (er hängte sie aber kurz danach bereits an den Nagel), mit 8 Jahren Gitarre und begann zu singen ungefähr direkt nachdem er Tiergeräusche machen konnte.Seine ersten Songs schrieb er mit 12.
Matt studierte an der New York University Spanisch, Italienisch, Portugiesisch, Psychologie und Musik. Nach einem Studienaufenthalt in Italien, dem Abschluss an der NYU und nachdem er 8 Monate in einem Waisenhaus in Peru gelebt hatte, kehrte er nach New York zurück und tauchte in die Singer/Songwriter-Community von Greenwich Village ein. Wie auch immer, es dauerte nicht lange bis es ihn im Jahr 2013 nach Nashville und in die dortige lebendige Musikszene zog. Seitdem geht es für Matt Volldampf voraus.
Er veröffentlichte 3 vollständige Studio-Alben, durchtourte die USA und die Welt, war mit der legendären britischen Musikerin Joan Armatrading auf ihrer letzten Tour unterwegs und war ein "Artist of the Year" von "Concerts In our Home". Seine Youtube-Videos haben bisher schon 2,7 Millionen Leute erfreut und wenn dies ein Indikator für seinen Erfolg sein sollte, sieht die Zukunft rosig aus für Matt.
______________________________________
People try to box others in. Genres and artist comparisons are how the public makes sense of a musician. You can't really do that with Matt Bednarsky.
Born to a jazz guitarist and music teacher father and a mother with a classical pedigree, Matt grew up in Shelton, CT engulfed in music. He began violin at the age of 4 (soon after left behind), guitar at age 8, and started singing probably not long after he could make farm animal noises. He first put pen to paper in songwriting at the age of 12.
Matt attended New York University and studied Spanish, Italian, Portuguese, psychology, and music. After studying abroad in Italy, graduating from NYU, and living at an orphanage in Trujillo, Peru for eight months, he eventually found himself back in NYC and immersed in Greenwich Village's singer/songwriter community. However, it wasn't long until he made the move to Nashville in 2013 to dive into Music City's vibrant scene. Since then, Matt's been full steam ahead.
He's released three full-length studio albums, "A Bigger Picture" (in part executive produced by Ed Cash) in 2014, "Two" (co-produced with Gus Berry) in 2015, and "Luminescence" (co-produced with Neilson Hubbard) in 2017.
He's toured the country and the world, playing to audiences in the U.S., Canada, Europe, and Australia. He opened for legendary British artist Joan Armatrading on multiple engagements during her final major tour as well as soulful American Idol Season 9 Runner-Up Crystal Bowersox. He was named a 2015 Artist of the Year by Concerts In Your Home. And, he's built upon his expansive internet presence; currently he has over 2.7 million cumulative views on YouTube. If his body of work up 'til now is any indication, the future is bright for Matt Bednarsky.
…okay, fine, if you really need it!: His unique style draws influence from a variety of genres including pop/rock, folk, jazz, and blues. Think somewhere in between James Taylor and John Mayer with Ryan Adams and Michael Bublé mixed in. But, you're better off just throwing those last two sentences out the window and hearing him for yourself.
______________________________________
https://www.facebook.com/MattBednarsky
http://www.mattbednarsky.com/
https://www.youtube.com/watch?v=gLmYCg0DRNU