Paul Liddell (UK)
14.06.2017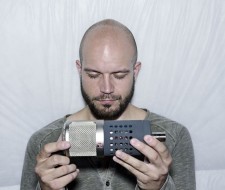 Pauls modernes Konzept als 'One Man Band', bei dem er Live-Loops, Gitarren, Percussion, Harmoniegesang und Effekte nutzt, hat dazu geführt, dass ihn bekannte Künstler wie Florence and the Machine, Turin Brakes und Billy Bragg zu sich auf die Bühne geholt haben. Liddell ist ein anspruchsvoller Songschreiber mit unverkennbarer Stimme, dessen Bandbreite von flüsternder Intensität bis zu ohrenbetäubender Heftigkeit reicht.
Paul Liddell ist ein engagierter Musiker, Sänger und Liedermacher von der Nordost-Küste Englands. Sein aktuelles Album, das exzellente "Milestones and Motorways" ist mit Stolz im Eigenheim produziert und unabhängig veröffentlicht.
Paul ist ein erfahrener Live-Künstler mit unaufhaltbarer Arbeitswut, die sich in bis zu 20 Auftritten im Monat widerspiegelt. Live kombinieren sich seine einzigartige Stimme und der unprätentiöse Auftritt mit dem live Sampling, Gitarrenperkussion und übereinandergelegten Gesangsharmonien und bilden so eine großes Fundament, um seine wunderbaren Songs scheinen zu lassen.
---------------------------------------
Paul's modern take on the 'one man band' using live loops, guitar percussion, harmonies and effects has seen him support artists such as Turin Brakes, Jon Gomm and Billy Bragg. A diverse and challenging writer with a unique voice, his live performances range from whispering intensity to a white knuckle, edge of your seat, ear splittingly glorious racket.
Paul Liddell is a working musician/singer/songwriter/recording artist based by the sea in the North East of England. His current album, the excellent 'Milestones And Motorways' is a proudly home-made and independent release.
Paul is an experienced live performer with an unstoppable work ethic, clocking up on average 20 gigs a month both solo and with his band 'Delphians'. Live, his singularly unique voice and unpretentious delivery combine with the use of live sampling, guitar percussion and layered vocal harmonies to provide a great platform for his wonderful songs to shine. Paul has toured in America, whipping up a storm in several little coffee houses across California. While there he performed on a TV show filmed in Time Warner studios in Hollywood, and got his song 'Brighter Lights' placed on a nationally distributed and TV advertised folk compilation CD.
Other live highlights include a show-stopping performance on the main stage at the Beverley Folk Festival, and a memorable show at the Piperine Free Festival in Milan. Other artists Paul has shared billing with include Billy Bragg, Turin Brakes, Beth Rowley, Glenn Tilbrook (Squeeze), Karine Polwart, Polly Paulusma, Calvin Harris, Nick Harper, Nerina Pallot, and Florence And The Machine.
Other notable achievements include making it through to the final 10 of Q Magazine's Glastonbury competition, being named as the hardest working, most gigging songwriter of 2009 by the PRS, and selling over 3000 albums and EPs solely at live performances.
Paul is currently unsigned and unrepresented, building a cottage industry into something more in a purely independent, DIY fashion.
Praise for Paul's album 'Milestones And Motorways'
Paul is a smooth and capable guitarist, and his low-key vocals tackle social injustice and media corruption with wry compassion. The vivid splashes of grungy electric riffage that punctuate this album add welcome force to this sharply etched portrait of life in modern Britain – GUITARIST MAGAZINE
"Milestones And Motorways" is a real troubadour album, one that throws life and experiences right back at you, ready to challenge your thought processes and move on. Politics both personal and global aren't shied away from, Liddell is not about to sell himself and his listeners short by compromising yet still contrasts his aggression with recocilliation – FATEA MAGAZINE
An artist in the bloom of their creativity – FOLKING.COM
Lyrically, the songs come armed with a social and political conscience (bankers, the media, Catholicism, instant gratification culture,) as well as exploring self-doubt and the human condition….. capable of sharp observations and on the lovely Footprints with its 'walking in circles footprint wheels' line, unbridled romanticism. – NETRHYTHMS
_________________________________________
https://www.facebook.com/paulliddellsongs
http://www.paulliddell.com/
https://www.youtube.com/watch?v=uFFl0H4I4ME