Ryan M. Brewer (USA)
16.06.2017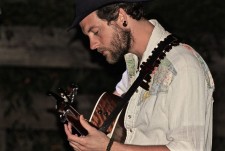 Wird Ryan M. Brewer auch in die Rubrik Singer/Songwriter gesteckt, so ist er doch besser beschrieben als ein reisender musikalischer Geschichtenerzähler. Schon immer hat er den Schwerpunkt auf die Lyrik gelegt, und so tendieren seine Songs dazu, zwischen den Genres hin und her zu fließen - je nachdem, wie es der Gang der erzählten Geschichte erfordert. und das ist alles, worum es geht: Songs und Stories.
Brewers brutal ehrliche Lyrik beschreitet einen weiten zeitgemäßen Pfad - sie deckt existentielle Verwirrung ab, Politikverdrossenheit, Kampf um religiösen Glauben und die allem zum trotz vorhandene Liebe und Fröhlichkeit. Seine stimmliche Bandbreite ist beeindruckend, seine Songstruktur herausfordernd und sein Gitarrenspiel komplex.
----------------------------
A singer/songwriter by trade, Ryan M. Brewer is more accurately described as a traveling musical storyteller. Having always placed the primary importance on lyricism, his songs tend to float effortlessly between genres...each one falling precisely where it needs to in order to most accurately tell the story. And that's all that matters - songs and stories.
Brewer's brutally honest lyricism treads a wide topical path - covering existential confusion, political disenchantment, struggle with religious belief and love/happiness in spite of it all. His vocal range is impressive, his song structure is challenging, and his guitar work is intricate.
________________________________________
http://www.ryanmbrewer.com/
https://www.facebook.com/ryanmbrewer/
https://www.youtube.com/watch?v=-MgTA5c66ZM