I-Taki Maki (ITA)
07.07.2017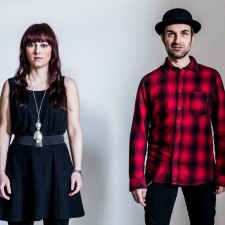 I-Taki Maki sind ein italienisches Alternativ-Indie-Duo, das 2012 gegründet, seit 2015 in Berlin beheimatet ist.
Die Gruppe besteht aus Go-Mimmi-Go (songwriting, Gesang, Schlagzeug, Klavier, Keyboards, Glockenspiel, Melodica) und strAw (Songwriting, Gesang und Gitarre).
Ihre Musik lebt von einer Mischung aus Alternative Rock und Post-Punk-Einflüssen sowie Minimal-Arrangements und -Kompositionen.
Nach 3 Studio-Alben, 2 EPs und 4 Musikvideos sind I-Taki Maki bereits etablierte Musiker und nun zum ersten Mal im Tonfink zu Gast.
---------------
I-Taki Maki are an Italian alt-indie duo, formed in 2012, based in Berlin since July 2015.
The group consists of Go-Mimmi-Go (songwriter, vocals, drums, piano, keyboards, glockenspiel & melodica) and strAw (songwriter, vocals & guitars).
Their music features a melding of alternative rock and post-punk influences and a minimal arrangement and composition. The band's discography consists of three studio albums, "Magneto" (2012), "Western Monamour, the West Way [of Life]" (2014) and "Dust... and it will be forever" (2015); two EPs and 4 music videos "l'Orrore della Globalizzazione" (2013), "Garrincho Monamour Steeldust" (2014), "Dust" (2015) and "Black Autumn Sun", (2016 - the Open Stage Berlin with Kopperkollektive)
______________________
https://www.facebook.com/itakimaki/
http://itakimaki.altervista.org/
https://www.youtube.com/watch?time_continue=3&v=RXKLMCj0fX0